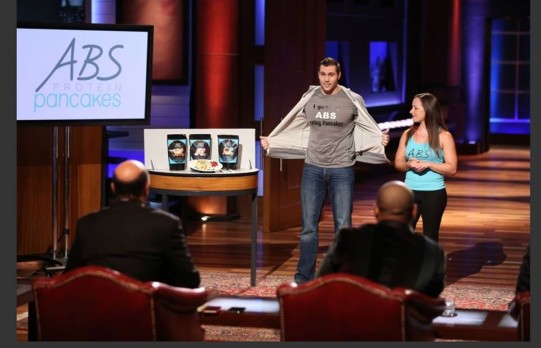 Josh McClellan and Ashley Drummonds are two fitness marketers who sell workout systems and their line of ABS protein pancakes to help you get fit while eating "good" food. Drummonds markets an information product called Flat Abs For Women and McClellan has a similar product aimed at men. Drummonds came up with the idea for protein pancakes because she wanted to keep eating sweets when she trained rather than starve herself.
Even with the most rigorous exercise regimen, rock hard abs and that "cut" look are impossible without the proper low-carbohydrate diet. As Drummonds says, "abs are made in the kitchen, not the gym." Many people look to protein bars and shakes for their low carb "sweet fix," but Drummonds' protein pancakes are actually a better alternative than those options. ABS pancakes have 24 grams of protein and under 8 grams of net carbs. The differing absorption rates of the pancake formula assures the steady distribution of protein during a work out.
ABS Protein Pancakes are made from "Casein, Whey Protein, Whey Isolate, U.S. Milk Protein and other healthy ingredients." Reviews are mixed, but the general consensus is they taste pretty good. Good ABS don't come cheap, though; a 1 pound package of either chocolate chip, cinnamon roll, or vanilla cake batter pancake mix will set you back 43 bucks! Drummonds and McClellan have carved out a nice little niche in the health/training food market, and now they want a Shark's help to go mainstream.
My Take on Protein Pancakes
I LOVE pancakes and waffles. We usually have one or the other for Sunday breakfast, but I make mine from scratch. Pancakes made from scratch just taste better than mixes. In a pinch, I use Jiffy Mix, but scratch is my method of choice.
While we get exercise and eat a well-balanced diet in our household, we don't get too picky. A stack of pancakes once a week isn't going to kill me, but I'm not a competitive bodybuilder by any stretch of the imagination. I haven't had good abs since my 20's, and I'm OK with that. At 50 years old, I'm concerned with staying active and eating well, not getting a six-pack. My wife is a swimmer and she has a six-pack, but she is one of those lucky people with a high metabolism; she could eat pancakes every day and still stay slim and trim!
I probably wouldn't be a customer of ABS, but I am sure there are enough fitness enthusiasts who diligently watch their diet that would. If the mix tastes good and it's that much better than the standard protein bar, there will be many people ordering this product. Now all Drummonds needs to do is make a high protein syrup!
Do Sharks Stack an Investment?
Protein bars and other health foods have mixed results in the Tank, so do fitness related products. With the panel of Sharks in attendance for the ABS Pancakes pitch, I am not sure Drummonds will get a deal.
Robert invested in a fitness/cross training product called The Natural Grip in season six, but I'm not confident in his love of niche food products as an investment. Lori isn't into niche products, so I don't think she'll bid. Mr. Wonderful may make a token royalty offer just to keep things interesting, but I doubt he'll be a serious investor. Mark will say something to the effect of "I get it, but I don't want to be in the protein pancakes business."
That leaves Daymond. Daymond invested in product marketers in the past, notably Spy Escape & Evasion and Cowboy Ryan. Cowboy Ryan's product is a straight-up fitness information product and Daymond has publicly said "it's a lot of work," but it's still been successful. Drummonds isn't pitching her Flat ABS for Women product, but the tie-in with the pancakes should come up in the pitch. If Daymond likes the pancakes and believes in McClellan and Drummonds, he could be a player – but it's a long shot at best.