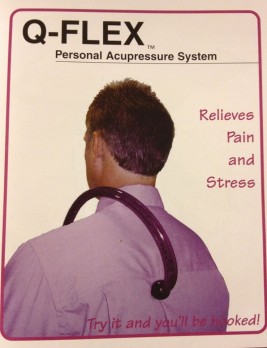 Mother/daughter team Hong and Andrea Cao pitch Q-Flex, a personal acupressure device, in the Shark Tank Holiday episode. Andrea, who is only 13, invented the device to ease muscle pain by utilizing the ancient Chinese healing art of acupressure.  Similar in principle to acupuncture, acupressure is used to apply pressure to certain meridians or parts of the body. It is claimed it can relieve nausea, vomiting, lower back pain, tension headaches, stomach aches, and more.
Typical acupressure is applied by one person applying pressure with their hands, elbows, even feet, to various pressure points. The QFlex device allows someone to apply pressure to their own body. It's essentially a flexible, curved shaft that can be maneuvered anywhere so you can relieve pain without assistance.
Andrea and her mom currently make all their Q-Flex devices by hand. As of this writing (one week prior to air) they are not available for sale, but their website says "coming soon." Q-Flex, in the week before the show, is redesigning their website. They have a poor social media presence. They likely need a Shark to help them get up to speed with marketing.
My Take on Q-Flex
On the surface, QFlex looks like a simple way to give yourself some relief through pressure on aching muscles and joints. I don't know much about the science involved, but I do know that when I have a knotted up muscle, some pressure and massage can bring temporary relief.
The problem I have with Q-Flex is twofold. First, just one week prior to airing on Shark Tank, they aren't doing ANY pre-show marketing. Their website isn't even functional. This does not bode well for the product or the business. Second, while many people swear by its benefits, claims made by acupressure practitioners are viewed as dubious (at best) by the medical community.
Will Sharks Apply Pressure?
Lately, the Sharks have been very kind to young entrepreneurs. Even though QFlex was invented by a 13-year-old, I don't think any Sharks invest. Anytime there is a product in the Tank that makes medical claims, the Sharks want some sort of scientific study to back up those claims. Acupressure isn't new, so there are a lot of "studies" out there on its effectiveness, but none that state it as a medically legitimate way to ease pain.
With a shadow like that hanging over Q-Flex and with what we know about acupressure as a practice, I think the Sharks all go out on this deal.