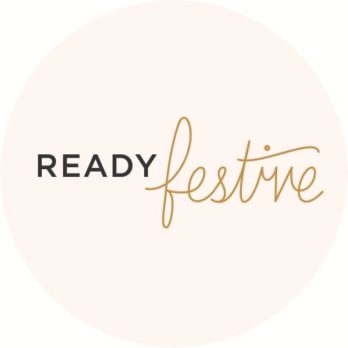 Kristina Barnes and Elizabeth Voelker practically invented Ready Festive by accident. Both women were "taking a step back" from the corporate world to raise their kids. The two mothers of three both subscribed to a variety of subscription box services like Blue Apron and Kiwi Crate.  One day after shopping for Christmas decorations with her toddler, Liz came home and saw one of her subscription boxes on her doorstep. She went looking for a similar box for decorations and couldn't find any, so she and Kristina started their own.
It's a pretty simple concept. Answer a questionnaire on their site to assess your style preferences, pick your holidays you want decorations for (they require 3 per year), pick the size of your box and they'll do the rest. They curate all their decorations from hundreds of sources, pack them up and ship them to your door. It's that easy. Prices for boxes range from $69 to $159 depending on the size you choose.
They only started the business in 2019. They thought they were sunk in 2020 when the Covid-19 pandemic shut the world down, but since people couldn't go out in a lot of places, business boomed. Their customers realized the same thing Kristina and Elizabeth did: running all over the place for decorations is a pain. Customers stayed because they too felt the pain. They've since hired a business advisor and moved into a third party fulfillment center. Now, they want a Shark to help take the business to the next level.
My Take on Ready Festive
I congratulate these two women on recognizing an opportunity and going for it. Like I said earlier, they started the business to fix a personal pain point and they didn't look back. It's clear they know what they don't know as they hired an advisor and took his advice. That's often the most important trait in an entrepreneur.
As for the service, I'm not a big decorator and neither is my wife. We put up our Christmas tree at Christmas time but that' the extent of our decorating. The only other time we'll decorate is someone's birthday. We have a "Happy Birthday" banner we pull out for that. While I'm not a customer, I can identify at least a dozen people in my circle that would totally go for this.
Do Sharks Like Decorating?
Sales are going to determine whether these two women get a deal. If they're good and growing and 2020 wasn't a blip on the radar, they could field an offer or two. I don't think Lori goes for this as it's not really in her wheelhouse, but any of the other 4 Sharks could. Look for an offer from Kevin as it could fit nicely with his "Something Wonderful" platform. Both Mark and Robert could bring value on the tech side too. Barbara could make an offer if she likes the women as she often bets on the entrepreneur rather than the business. We shall see.