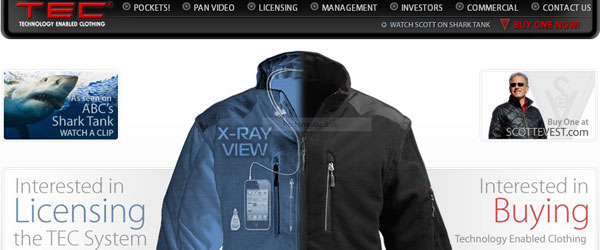 Scott Jordan, founder of Technology Enabled Clothing enters Shark Tank to pitch his company. This by far is the most advanced company to enter the Shark Tank and is pushing the line of seeking Angel Investment. That can only mean one thing, a publicity and marketing stunt for the company.
Rob (co-author of this blog) said Scott Jordan calls Steve Wozniak, co-founder of Apple for advice during the presentation.  That's pretty impressive and then you take a look at all the other people who are serving on the Advisory Board or are company officers and it reaffirms my view that this is a total publicity stunt.
Initially I thought Technology Enabled Clothing came for the connections in the clothing industry, but having Kenneth "Hap" Klopp, founder of North Face as Chairman of the Board pretty much eliminates the connections need.
Scott Jordan is an attorney with stories in Entrepreneur Magazine, The Wall Street Journal and even in college text books. To me, he's on the show for a demonstration, not as a struggling Entrepreneur trying to fund a start-up company.
According to the Entrepreneur Magazine write-up, his vest, then called "e-vest" appeared on HBO's "The Wire" and on "ER". It was also on Exhibit at Disneyland's Tomorrowland. Again, with connections like this, why does Scott Jordan appear on Shark Tank.
The one interesting number is that in 2003, projected revenue for Technology Enabled Clothing was $5 Million and in 2010 Revenues were $6 Million. Has the company maxed out the potential and is Scott Jordan attempting an exit strategy by spinning the company off to one of The Sharks?
Expect Scott Jordan to turn down any offer that made for Technology Enabled Clothing from all Sharks.
I want to know what you think about Technology Enabled Clothing and Scott Jordan's Pitch. Am I right, or am I wrong?