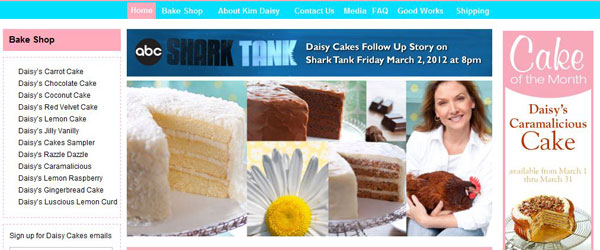 Cake orders crash web hosting servers during multiple  plays of Daisy Cakes episodes. Even off season reruns overwhelmed the web hosting account. What looked like to be a regional play at best became a huge hit across the country when Barbara Corcoran invested in the company.
Several issues threatened Kim Nelsons online business prior to the first-run Daisy Cakes episode. I pointed out the issues via email almost a week prior to the first-run episode. Nelson fixed most of the issues, but the web hosting account was not ready for the traffic.
Daisy Cakes showcased a new website on the Monday morning following the first show. The site appeared to have issues solved until another rerun again, cake orders crashing web hosting servers. This time, bandwidth appeared to be responsible.
Cake Orders Crash Server Proves Investment
Daisy cakes appeared to be a regional company due to shelflife of products like Red Velvet Cake. Dry Ice comes to the rescue freeing making Daisy Cakes available to everyone. The company ships product all over the country. They are an instant hit!
Barbara Corcoran smartly noticed no crumbs left after all Sharks devoured the deserts.
Barbara Corcoran made one of the best deals on the show so far, when she invested $50,000 in exchange for $1 back on each sale until $50,000 would be repaid. Additionally, she received equity in Daisy Cakes.
According to Corcoran, the money was paid back in a matter of weeks making it available for future entrepreneurial investments.
There was one issue with prospective customers… The shipping cost shocks many prospective customers. The cake ships in Dry Ice and shipped frozen.
Kim Nelson and her company Daisy Cakes played on the emotions of The Sharks. The Sharks drilled Kim Nelson with questions, hoping to find an angle for this great product. Ultimately, Barbara Corcoran stepped up. She made an emotional deal, thinking she would get her money back and help a struggling entrepreneur. That calculated risk turns out to be one of her best deals yet!
Barbara Corcoran connected with Kim Nelson and Daisy Cakes, seeing the same instincts that AVA The Elephant founder Tiffany Krummins has.
Congratulations on your success Kim Nelson and look forward to the orders flying in again on tonight's show!