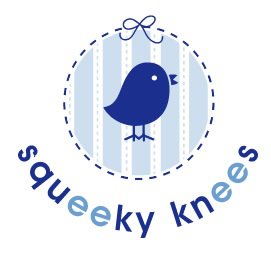 Squeaky Knees isn't a new joint problem, it's the business Ivan Barnes and Lisa Evans pitch in Shark Tank episode 521 on March 7. Evans created Squeaky Knees, a line of toddler wear, in 2010 when she wanted to protect her toddler son's knees and bum for the inevitable tumbles. The hook is, the knees and bum of the clothes have "squeakers' sewn into them.
As a toddler crawls around the house, he "squeaks" as he moves. The squeakers protect the knees and parents know where their little bundle of joy is as long as he's moving. A single squeak followed by some crying likely indicate a fall onto his posterior!
Evans initially sold Squeaky Knees through another company, but now she's selling on her own, direct from the company website. The line isn't in any stores, yet; a Shark Tank appearance could change that quickly.
My Take on Squeaky Knees
My brood is well beyond the toddler stage, but I can only imagine the cacophony if we had Squeaky Knees when we had four (yes FOUR!) toddlers. The video on the product page shows how they work. It's very cute, it sounds like there's a squeak toy convention whenever a toddlers starts crawling. The kids in the video seem to think it's pretty fun too.
If these were around when my kids were toddlers, we would have had some for sure. If we didn't buy them ourselves, I am sure the grandparents would have. They'd be a hit at any baby shower, too. Evans makes her clothing line in the USA, which makes it that much more appealing. I think Squeaky Knees is a winner; I am "IN."
Squeaky Sharks?
Kids clothing has not fared well in the Tank in season five, but you never know. Mr. Wonderful might offer a "royalty per squeak" deal, but the only Shark I see investing would be Daymond. Lori could make a play if she believes it could sell on QVC, but Mark, Robert, and Mr. Wonderful will surely be out.
The ABC press release says "a mom is brought to tears by the Sharks' reception to her product." Whether they're tears of joy or tears of frustration remains to be seen. ABC likes to try to fool us with their "teasers," so you never know. Lets hope Evans squeaks a few bucks out of the Sharks.