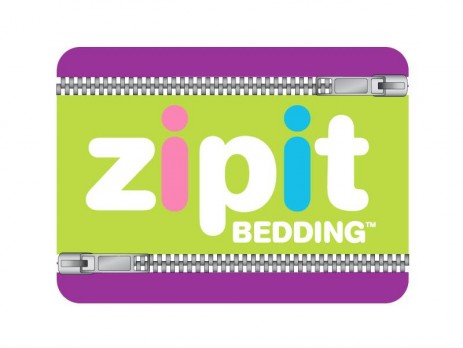 If making your bed with hospital corners every day isn't your thing, zip on sheets from ZipIt  Bedding could be just what you're looking for. Entrepreneurs Hayley Carr and Jennifer MacDonald  hope the Sharks snuggle up with an investment in episode 517 when they pitch their concept on February 28. The two friends and business partners want to "disrupt a stagnant industry" with their patented zip on sheets they promise will change the way the world makes beds.
What ZipIt  Bedding does is attach the fitted sheet to a comforter with a patent pending zipper system. Instead of fussing with rumpled sheets, simply smooth out the entire cover, sheet and all, zip it up, and you are done. The finished, "made" bed is like a sleeping bag. Using the zipper system cuts bed-making time down from 2-4 minutes to less than 30 seconds. With Zip It  Bedding, you'll "never have to make your bed again."
Zip It  Bedding looks good, too. They come in complete sets with mix and match colors of a comforter, fitted sheet, and zippered pillow case. The zip on sheets come off the bed for easy washing, and re-attach easily. At around $55-$65 per set, the pricing is on par with quality, brand name bedding sets.
Zip It  Bedding has an infomercial style video they want to run on TV. They sell their sheet sets on their website.
My Take on Zip It Bedding
I'm a messy bed guy. I don't usually make my bed – never have. Call me a slob, but it just isn't that important to me. My wife and I get into the occasional squabble about it, but she usually straightens things out when it comes to the bed. She's definitely a "hospital corners" type of gal; I'd swear she was a Marine in a former life – you can bounce a dime of the bed when she's done with it!
My wife would love Zip It  Bedding's zip on sheets system. Anything that makes her life easier is something she wants and I must admit, Zip It  is a pretty nifty idea. I could certainly envision a set or two in our linen closet.
Will the Sharks Get in Bed with Zip It?
There are several Sharks with connections at Bed Bath and Beyond, on tonight's panel it's Lori and Robert. They will need to LOVE the product in order for Carr and MacDonanld to get a deal. Mr. Wonderful will want to license the patent, which might be a good idea. If a big bedding manufacturer started pumping out snap on sheets, ZipIt  Bedding's bank account could fatten quickly.
Lori could probably sell these on QVC quite successfully, plus she has the BB&B connections. She'll need to think Zip It  Bedding is a "hero" for her to make an offer. I don't think Mark goes in, same for Barbara. Mr. Wonderful might offer if the valuation is right and he thinks he can license it. Robert might jump in, too – or partner with someone. I think Zip It  Bedding fields at least one offer, but will they get in bed with a Shark?