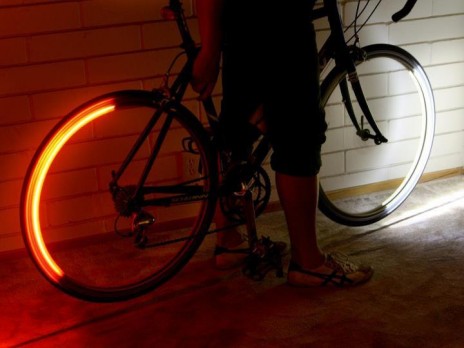 Kent Frankovich rolls into the Shark Tank in episode 521 on March 7 with his Revo Lights LED bike lighting system. Once installed on bike wheels, Revo Lights act like a headlight in the front and a brake light in the back. The secret is a set of lighting rings that clip onto the front and back wheels. They're charged with via a USB lithium-ion battery that mounts on the wheel hub.
Revo Lights are primarily a safety feature, something urban bikers need at night. The lights project in the front and rear and off to the sides, providing higher visibility for bikers. Frankovich got Revo Lights rolling with over $300K in Kickstarter funding.
The company is at it again with yet another Kickstarter campaign seeking $100K to fund its lower priced product called "ARC." Affordability was a concern for their would-be customers (the original Revo Lights cost $229 per set – the ARC runs under $100 per set), so they developed a lower priced version. The new Kickstarter less than a week old as of this writing.
My Take on Revo Lights
This is a cool product. Back in my younger days, I rode my bike everywhere, so I understand the need for night-time lighting. Having a functional brake light is a fantastic idea. The unique look will surely call automobile drivers' attention to the bicyclist, too. The Revo Lights design is lots better than old school bike lights. I guess even bicycles are going digital.
The biking community obviously likes the product, hence the consistent Kickstarter support. I think the idea of making a lower priced option is sound; $230 is a big chunk of change for bike lights – my 30 year-old mountain bike cost less than that. $70 is a lot more reasonable. I do like the product and might use it if I weren't so enamored of my Cadillac!
Do Sharks Light up over this product?
I don't think Revo Lights gets a deal here. I am wondering why they even need the Sharks. The company obviously knows how to raise money; not many businesses raise over $300K on Kickstarter (let alone ask for another $100K on top of that). The Sharks will like the product, who wouldn't? The technology is cool, it's functional, and the market is huge.
The reason I don't think they get a deal is the Kickstarter. If they got a deal, they wouldn't need it. The ABC press release says Mark Cuban gives one entrepreneur a "tongue lashing." I'm thinking Mr. Frankovich is the guy. Cuban won't like that they've spent over a quarter of a million bucks of other peoples' money to date to get the company rolling. While I don't doubt the viability of the company or the awesomeness of the product, I think the Sharks short-circuit this lighting system.