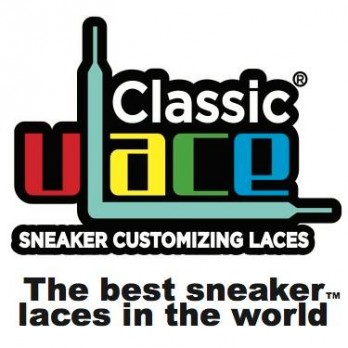 Tim Talley, a "shoetrepreneur" extraordinaire, introduces the Sharks to ULace, his custom shoelace system, in episode 521 on March 7.  Talley is no stranger to entrepreneurship, or business for that matter. He is a principle in Fraternal Golf, LLC, a company that sells personalized golf gear with Fraternal Greek lettering. He's also done stints with Revlon, Merrill Lynch, and New Era Caps.
His background as a serial entrepreneur is what led him to develop U Lace. When traveling in Japan back in 2007, Tim saw a sneaker displayed in a store window with different lace colors that matched the trim of the sneaker. When he went inside to take a closer look, he found the store used four full sets of shoe laces. Tim liked the idea of different colored laces, so he came back home and developed ULace.
Each ULace set is a stretchy, single eyelet set "lace." By combining different colors, people can customize the look of their sneakers. The stretchy trademarked "LaceFeel" technology gives the added benefit of making sneakers a slip-on shoe. Talley has global distribution for ULace, so I'm not sure what he's looking for in the Shark Tank.
My Take on ULace
While taking the time to customize the look of my sneakers isn't something I'd personally concern myself with, an unscientific poll of the sneaker wearing youth in my house tells me U Lace could be an even bigger hit that it is now. My girls all proclaimed them "pretty cool," and that is HIGH PRAISE. Everybody wants to express their individuality and ULace is one more way to do it – with colorful style.
Where Tim gets me as a customer is the "LaceFeel" stretchy laces. I like being able to slip my sneakers on and off without tying them and ULace lets me do that. I might not accessorize with multiple colors, but I like the utility of the product.
Will Sharks Lace 'em up and invest?
This is a product that needs to be on the shelves in every store that sells sneakers. Talley did a good job taking the product global and he appears to have  a good online sales channel, but the Foot Lockers of the world need this product. This has to be what he wants the Sharks' help with.
The shoe biz has been rough in the Tank, but this is more of an accessory play. EVERYBODY owns at least one pair of sneakers and a lot of folks wouldn't think twice about dropping eight bucks for a multi pack of ULaces to dress up their kicks. The kids are going to LOVE these things.
If Talley has a good valuation, he'll probably get multiple offers. I have to believe Daymond is the best Shark for this product. With his apparel connections, he could take ULace to the next level almost overnight. Talley re-vamped his website a week before the air date, so he's either savvy enough to know about the Shark Tank Effect or he had some Shark help. I think Talley gets a deal, and I am "IN" with a couple of multi packs!