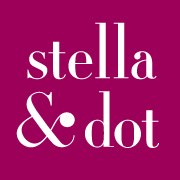 Stella and Dot is jewelry and accessories business that offers entrepreneurial woman the opportunity to start their own business out of their home, without a big investment. If you wish you could be like the many successful women entrepreneurs seen on Shark Tank, but you aren't interested in inventing a product, perhaps Stella and Dot is the answer for you.
They describe themselves as a "social selling company." Women can sell anything in the Stella and Dot portfolio at home "trunk shows," or through various online strategies.  You choose how much effort you want to put into your business. Stella and Dot home stylists earn anywhere from a few hundred extra dollars a month to over $300K per year!
Stella and Dot offers Training
The company offers a lot of training and support in order for their stylists to be successful. Their jewelry and accessory products are quality, in demand items women everywhere adore. If you like interacting with people and sharing beautiful fashion accessories, this could be the business opportunity you have been looking for.

There are many other work at home direct sales opportunities out there, but Stella and Dot has consistently received rave reviews from stylists and customers alike. If you've ever been to a Pampered Chef or Discovery Toys party, you know the drill. The Stella and Dot difference is their products are things women want; for themselves and as gifts. They're an Inc. 500 company with lots of upside for the right kind of person.
If you've ever wanted to start your own business, but weren't sure how, ask yourself these questions:
– Do I like jewelry and fashion accessories?
– Am I a social person – online and in person?
– Am I comfortable sharing products with friends and their friends?
If you answered yes, you should check out Stella and Dot's business opportunity for women. It could be just the thing you've been looking for!
For more info, check out the video:
If you Like what you see, CLICK HERE TO LEARN MORE
If you Like what you see, CLICK HERE TO LEARN MORE