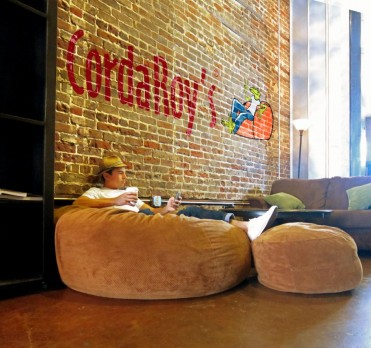 Bean bag chairs have been around for a long time, but a bean bag bed is still a relatively new concept. Entrepreneur Byron Young has been churning out CordaRoy's since 1998. It's a bean bag chair with a twist: it unfolds and becomes a bean bag bed!
CordaRoys bean bag bed is touted as the most comfortable furniture in the world. They're heavy-duty when compared to the vinyl encased bean bag chairs that come to mind; they're made from double stitched fabric with an interior foam containment system. They make their bean bag bed in the USA, but some of the components come from China. CordaRoys offers a lifetime guarantee on workmanship.
A Bean Bag Bed Sounds Comfy
At one time, just about everyone I knew had a bean bag chair. We have two in our home now, but they're cheap ones we got for the girls' rooms. Every once in a while, I'll grab one for some TV watching. I'm always thinking I'd like to get a "grown-up sized" bean bag chair because they are so comfortable. Having one that converts into a bean bag bed would be cool for when visitors come.
This is one of those Shark Tank products I could see myself buying and using. We are currently in the market for a new chair and bean bags have come up, but we felt they were too low-end for our TV room. CordaRoys are furniture quality, not cheap crap, so I will be sure to have my wife watch this episode (it's always better when things are her idea).
Will Sharks Lounge on Cordaroy's?
I have to believe this business is on Shark Tank for PR. They've been around for 15 years and appear to be doing quite well. Unless they offer a very reasonable deal, I can't see the Sharks offering anything Byron Young would accept. The more mature businesses that appear in the Tank have a pretty good grasp on their value and usually aren't willing to give away too much of their company. The Sharks usually don't see eye to eye on value with an entrepreneur that knows what their business is worth.
I think there will be an offer or two and I think the Sharks and the viewing audience will like the CordaRoy's bean bag bed, but I think Byron Young won't hear an offer with a value he can live with.