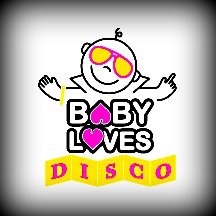 A traveling disco van doesn't seem like much of a business on the surface. Entrepreneurs Andy Blackman and Heather Murphy  would beg to differ. They've been traveling around the country in their custom traveling disco van since 2006 putting on disco parties for families. It's a kid-based business that, much like Th LA Coop did earlier in season 4, provides entertainment for kids while keeping the adults entertained too.
The traveling disco van pulls into cities on weekends to throw parties at nightclubs (during the day), malls, and all sorts of venues. Disco music from the 1970's and 1980's is the featured musical fare. There are crafts, snacks, even cocktails for adults in some places. The idea was to use the Baby Loves Disco traveling disco van to provide unique family entertainment that appeals to all ages.
Traveling Disco Van Beats Barney
One of Baby Loves Disco's mottos is "Barney is Banned!" The purple dinosaur is nowhere to be found near any Baby Loves Disco events. As a parent of five who, at the mere mention of the name "Barney" starts humming those inane tunes, I can see the appeal of a Barney-free zone when it comes to kids' entertainment!
My kids are too old for this sort of thing now, but as a veteran of countless kiddie events, I probably would have checked out a traveling disco van if it came to my town "back in the day," we were always looking for fun stuff to do with the kids before soccer, baseball, basketball, football, ballet, and swimming ate up our weekends.
Do the Sharks Get Down and Invest?
Baby Loves Disco has brought the traveling disco van to venues nationwide since 2006 with no advertising outlays whatsoever. The business is profitable, but I think expanding it, most likely through some sort of franchising arrangement, provides the best prospect for revenue growth. The Sharks will like the music, but will they like the business?
I can see this business getting funded, but only if the deal is Shark friendly. If they are looking for big bucks or an outrageous valuation for the traveling disco van, I think the Sharks will pass.