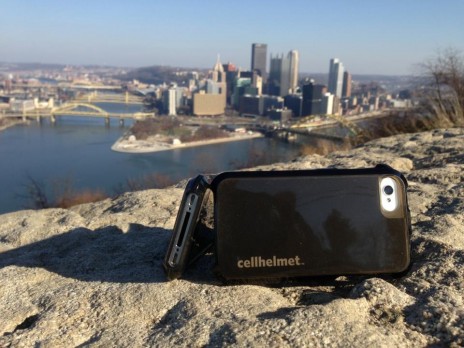 A protective cell phone case for iPhones unlike any other on the planet pitches the Sharks in episode 417. The company, Cell Helmet, was founded by three Pittsburgh guys: Mike Kane, Bryan, McHenry, and Dave Artuso with $700. They were selling cell phone cases on eBay and cellpig.com when they decided they wanted to make and brand their own protective cell phone case.
When they realized what they designed was just like everything else available, they decided to offer a service twist to set themselves apart. Cell Helmet will fix any iPhone that breaks while it's in their case. Simply send in your broken phone to one of over 50 repair centers nationwide and you'll have your phone back within 72 hours (as little as two hours if you drop it off at the repair facility). It's a bold and unique guarantee that's sure to pique the interest of clumsy iPhone users everywhere.
Made in the USA and Pittsburgh Proud
The Cell Helmet guys made a conscious decision to manufacture in their home town of Pittsburgh. Their 24 hour, customer service call center is located in Pittsburgh too. Cell Helmet is Pittsburgh proud, and rightfully so; they make a stylish protective cell phone case with the best guarantee anywhere. Their efforts will put a dent in protection plan sales to be sure.
I think this is the best idea  on Shark Tank this season. My oldest daughter is on her third iPhone – she keeps breaking them! I'll be getting her a Cell Helmet for her birthday. Every once in a while, a business comes along that changes the game. Cell Helmet is going to change the iPhone accessories market forever, and most likely make a pile of cash in the process.

Do the Sharks Want a Protective Cell Phone Case in Their Portfolio?
Even thought the Sharks pimp T-Mobile, which won't be selling iPhones until later in 2013, they'd be blind not to see the enormous potential of Cell Helmet. There are hundreds of protective cell phone case products out there, but none stand behind their product with a guarantee like Cell Helmet. They only provide a protective cell phone case for iPhones now, but they're planning on expanding to iPods and iPads too. I'm not privy to Cell Helmet's sales figures, but in an interview with co-founder Mike Kane, he told me the company is doing "very well."
I think Cell Helmet will field multiple offers. Mark Cuban, Pittsburgh native and noted tech investor, seems the most obvious to snatch up a piece of Cell Helmet, but this is a business that could start a feeding frenzy! Unless their numbers are so out of whack, I think Cell Helmet gets a deal. I am definitely "IN!"