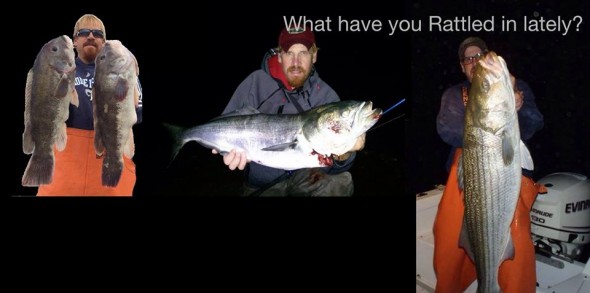 Greg Myerson doesn't usually go Shark fishing, but he will when he pitches his patented striper lures in Shark Tank episode 626. Myerson is a living legend in the fishing world and he holds the record for the largest striped bass ever caught: 81.8 pounds. Striped bass, once a highly protected species, are plentiful in the waters of the northeastern USA.
The World Record Striper Company is a business Myerson built around his "secret weapon," a rattling lure that mimics the sound of lobster traveling over rocks. Striped Bass have good taste: lobster is their favorite food. The sound his striper lures make attracts the fish and Myerson's proven he can get the big ones to bite.
He's likely looking for a Shark to help him get distribution in big box sporting goods stores. Will he get a deal or just be shark bait?
My Take on Mr. Myerson's Striper Lures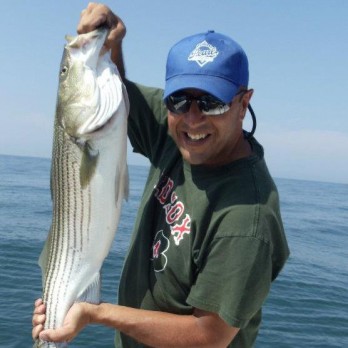 I've been fishing for stripers since I was a kid. In those days, the keeper size was 36 inches since the population was declining. Now, at least in Massachusetts, the keeper size is 28 inches. The biggest one I ever caught was 54 and a half inches: it was like reeling in a tire.
We also go for bluefish, which are much better fighters than striped bass, and fluke, sea bass, and occasionally cod. We catch stripers from kayaks in Buzzard's Bay most of the time, but every summer we charter a boat with "Captain Pete" for a day of striper fishing. We don't use striper lures, we usually use poagies, but we ALWAYS catch fish. Captain Pete says "it must have something to do with the guy driving the boat."
I've caught stripers on lures many times – bluefish too – but I never tried Myerson's striper lures. I may have to add one to my tackle box this summer. The guy clearly knows how to catch the big ones (must have something to do with the guy making the lures). I'm sure he has his secret spots, and knows the topography of the sea bottom where he likes to fish, but there has to be something to his lures or he would be like every other fisherman out there.
If I were a shark, I'd invest in the World Record Striper Company just so I could go fishing with Greg; I am IN!
Will Sharks be Lured to invest?
Mark Cuban invested in Shell Bobbers, another fishing product, back in season 4, so the precedent is set. To my knowledge, The World Record Striper Company is only the second fishing product to appear in the Shark Tank. While Myerson has credibility, it's the numbers that will sell the Sharks. I'm not sure if the Sharkettes like fishing, but I've never met a guy who doesn't. That means Greg has a decent shot at catching a Shark.