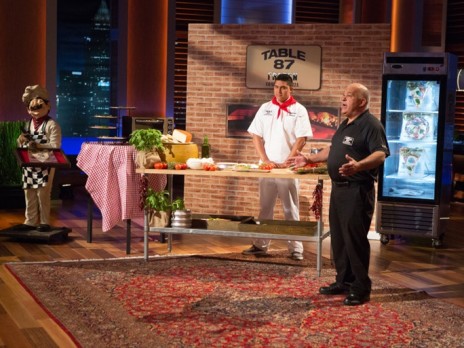 Guest post on the Table 87 Pizza deal with Lori Grenier – by Dan Casey
QVC Queen Partners with Table 87 Pizza – Will It Work?
Tom Cucco of Table 87 Pizza is the real deal. Born and raised in Brooklyn, he runs two successful pizza restaurants in a highly competitive market. He has begun to expand into the frozen food market and needs money to continue expansion. Food investments can be tricky. Can he translate a successful restaurant business into the highly competitive frozen food industry? Let's look at what factors Lori Greiner considered before deciding to invest:
Can it be replicated? This is one of the very first considerations for mass-produced food. Table 87 Pizza isn't an average pizza. It's a premium coal-fired pizza crust with all house-made toppings (including homemade mozzarella!). Cucco refined a flash freeze process where the fiery flavor is maintained. You could tell from her first bite that Lori loved this pizza, so he nailed the formula.
Does it appeal to the masses? At first, this may seem like a no-brainer question. Of course everyone loves pizza, right? Well, yes and no. They love their favorite brand of pizza. We're asking consumers to switch and try something NEW. This is where Table 87 Pizza is really a brilliant opportunity. By offering innovative frozen slices, it becomes a convenience product. Like a grab-n-go snack. Folks are more willing to pick up a $5 slice than a $10 pie. Once hooked, they are thrilled to learn it's available in pies! He's using a convenience food approach as an entrée for building his great strategy for penetrating this category.
Can it be scaled? Fulfilling big national orders means you need commercial kitchens called co-packers to produce your recipe on time, on budget and on quality. We've seen it time and time again in the Tank. Reluctant entrepreneurs who have a small business mentality and don't want to "give up control" working with a co-packer. They fear quality will suffer. Cucco came into the Tank knowing it was time to move into a commercial kitchen. He had perfected the flash freeze process and has the expertise to manage that process, be it in his own kitchen or a co-packer's.
The timing of Table 87's appearance on Shark Tank was ideal. Cucco had perfected his flash freeze process and proved the viability of the concept with initial orders from Fairway and Whole Foods. Lori was the only Shark who was truly excited about Table 87's full potential and not caught up in how to divide the business. She was chomping at the bit to partner with him. Isn't that what everyone wants in a partner? I can't wait to see this dynamic duo shake up the pizza world!!
Think Table 87 Pizza will fail? FUGGETABOUTIT!
Dan Casey, founder and CEO of purchaseorderfinancing.com, believes every business has a story to tell. He's been listening and helping small businesses grow exponentially since 2002 using a creative combination of finance tools. He's been featured in publications including Entrepreneur Magazine, Entrepreneur Online, Small Business Trends Online, The Washington Post, Crain's Chicago Business & American Express Open Forum. 

Visit www.purchaseorderfinancing.com and be sure to mention Shark Tank Blog to get a free subscription to Fast Company or Entrepreneur magazine.*

 

*Must qualify for financing to receive special offer exclusively for SharkTankBlog.com readers.