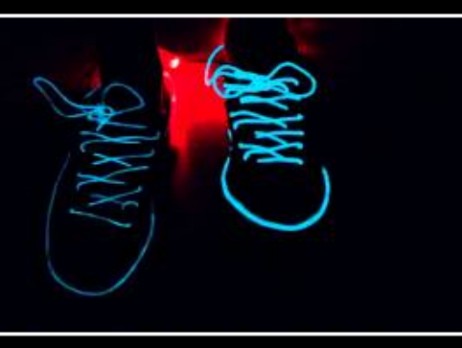 One of the cool things about writing the Shark Tank Blog is a lot of businesses send me samples for review – whether they've been on the show or not. I recently received a pair of Litie Laces in the mail for review; they're lighted shoelaces!
Basically, it's a flexible, shoe-lace like, LED tube with a light emitting device that doubles as the anchor for the shoe laces. You simply thread them onto your shoes, feed the LED tube into the light emitter, lock them down, and off you go. The batteries last 60-70 hours and each pair of Litie Laces comes with and extra pair of batteries.
You can attach them to much more than shoes, too. Basically anything you want to tie can accept Litie Laces. They're water-resistant: they'll handle moisture, but don't put them in the laundry!
Litie Laces isn't something I'd put on my shoes, so I asked my 11 year-old to try them out. She was running all over the place in the dark and I could see where she was because she was blinking like a beacon. She thought they were "awesome," I thought they were a good idea for night-time safety. People who walk or ride bikes at night could use them and EVERY kid should wear them on Halloween.
If Litie Laces were on Shark Tank, I'd be IN!
Check them out in this video