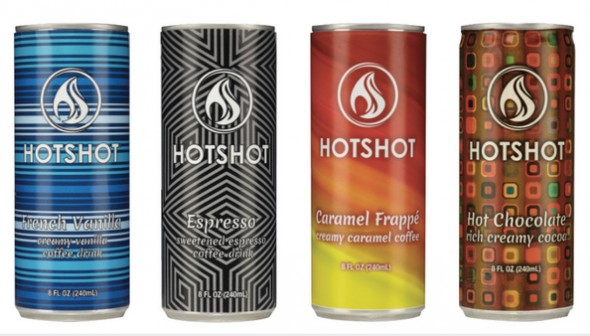 Danny Grossfeld likes his coffee and he likes it hot, that's why he's trying to bring his Hot Shot ready to drink coffee to market in the USA. Grossfeld "discovered" ready to drink coffee in a can in Japan, where it's been around for years. He keeps Hot Shot hot with his HotBox, a "hot fridge" that's a custom heating & storage unit for Hot Shot drinks. There are both industrial and personal sizes of the HotBox. Think of it as a cooler that keeps things hot.
For folks who want hot coffee on the go, the proof is in the taste. Hot Shot brews from "the finest Arabica coffee beans" in a "state of the art facility" for a fresh-brewed taste right out of the can.
He attempted to get things off the ground with an unsuccessful Kickstarter campaign in the Spring of 2015. As of this writing, there's no way to purchase Hot Shot, but their website states:  "Hot Shot is officially launching this winter 2015 through our website, movie theaters and local convenience stores."
My Take on Hot Shot
I like my coffee. Sometimes I like iced coffee, sometimes I want it hot. I would certainly try this and, if it met my "exacting coffee standards," I'd probably drink it regularly. I like the fact that I can take a hot coffee with me on the go without having to deal with a thermos.
Hot Shot would be great for events, too. Attendees at everything from 100,000 plus concert venues to local youth sports games want coffee. Often, unless an outside vendor comes in, the coffee sucks. Hot Shot would also be simple to sell at places that don't traditionally sell coffee – like the aforementioned movie theaters. The product has the potential to go "beyond the convenience store."
I don't think I'd buy a consumer HotBox, but I'd be a convenience store customer. It would be great to take fishing or to my kid's soccer games. As soon as I see these at my local convenience store, I am IN.
Do Sharks take a Shot?
Mr. Grossfeld is "all in" financially on Hot Shot – he's invested over $1 million himself. The Sharks will like that, if he has a solid plan. Coffee is a very competitive market and the ready to drink, coffee in a can is brand new to the USA. Educating consumers about the product is Grossfeld's biggest challenge and it will likely be the Sharks' biggest objection.
Mr. Wonderful told Jess from McClary Brothers she was a "pioneer, and pioneers get shot in the back with arrows." He'll have similar comments for Mr. Grossfeld. The Sharks will also wonder, since the product isn't proprietary, why a beverage giant hasn't created this product yet – or what would prevent them from doing so in the future.
I think Hot Shot leaves the Tank with no deal, because of the reasons stated above, and because of their  pre-show hype – or rather the lack of it. The Hot Shot website is very rudimentary and doesn't have a way to order the product. The Facebook page has two posts since May 7 and the Twitter page has nothing since May 6. None of the web properties mention a Shark Tank appearance at all. It's almost like Hot Shot stopped marketing once the KickStarter campaign failed – while it was active, there was a TON of activity.
When a business isn't shouting about Shark Tank from the rooftops, there's usually some underlying trouble brewing. It's almost always an indicator of no deal.