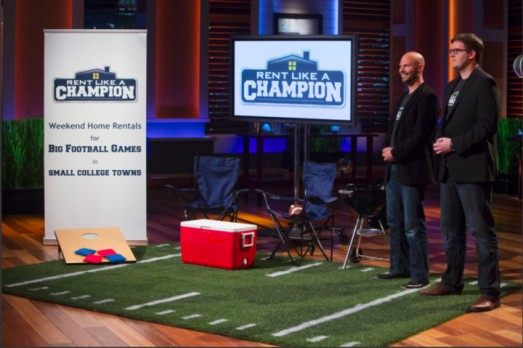 Rent Like a Champion is the AirBnB of college football weekend rentals. Co-founder Drew Mitchell and CEO Mike Doyle will be pitching their groundbreaking business in Shark Tank episode 704. Like AirBnB, Rent Like a Champion acts as a middleman between people willing to rent out their homes and people seeking lodging in popular college football towns. Unlike AirBnB, the rentals are just for the weekend.
The business originated in South Bend, Indiana, home of Notre Dame University. The business name is a play on the iconic Notre Dame Football locker room sign that reads "play like a champion today." Initially, Drew, along with fellow Notre Dame alums and co-founders Jordan Curnes and Derrick Shenk, just rented their own properties for weekends when there were a lot of traveling alumni in town. They eventually expanded the concept to Penn State and now have a presence in 21 college towns.
The company is located in Chicago and got its start in the 1871 Tech incubator. It's now housed at Catapault Chicago, another entrepreneurial incubator, Mitchell, Curnes, and Shenk are entrepreneurs in their own right – they each own and operate other successful businesses. Doyle, along with 7 other employees, runs the day to day operations of the business. While you don't have to be a Notre Dame alum to work at Rent Like a Champion, you do have to be a football fan!'
My Take on Football Weekend Rentals
I think it's a great idea. Two years ago, we went to a family wedding in Mendocino County, California. The wedding was in a small town and my wife, her parents, and a dozen or so aunts and uncles rented a big house in the hills for the weekend. It was close to all the wedding activities, and it gave us a place to gather in between. I've also rented homes for friends and family ski trips, so we could be close to the mountain. It's just more convenient having everyone together for those types of events.
Rent Like a Champion does the same thing, but with football weekend rentals. Big time college football fans are a loyal and rabid group of fans. Many travel for games and they all need a place to stay. For a group of Notre Dame football fans, getting the gang or the family together for "the big game" is like going on a ski trip or to a wedding is for me. They want to stay "close to the mountain," and they want to stay together.
The only concern I'd have is if I was renting my house, I'd worry it would get trashed. They have $1 million in insurance for just such and occurrence and they collect a security deposit. They als0 have a pretty damage-free track record.
I get what they're doing and I like the idea. If AirBnB can get valued at over $20 BILLION, Rent Like a Champion can certainly carve a nice, niche slice out of the peer-to-peer rental business, I am IN.
Will Sharks Champion this Business?
It seems like more than a coincidence that a football weekends rental business gets to pitch in front of guest Shark Chris Sacca. Sacca's gone on record saying he wished he hadn't passed on investing in AirBnB. Oh well, we all make mistakes!
This is a profitable, technology and transaction based business. The Sharks will like it and they'll like Drew and Mike. They are both smart guys and I don't think the fact that Drew has an MBA will hurt him. It strikes me as odd that Rent Like a Champion would want to be on Shark Tank at all – they're growing quite nicely and did around $2 million in sales last year. They do plan to double their business by going from 21 college towns to 40. They could also be eyeing other opportunities in the peer to peer rental space and going beyond football weekend rentals.
I think Chris Sacca invests in this business and I think he'll do it with another Shark. Mark Cuban would seem like the obvious partner, perhaps even Robert, but I don't think it's either of them. In the promo videos for this episode, Sacca is shown good-naturedly sniping at Lori; those types of clips are often put out to confuse folks about what really happens. Lori, like the Rent Like a Champion guys, is from Chicago. She's also shown a willingness in the last couple of seasons to make a technology play here and there. She could bring a new demographic to the table as well, should Rent Like a Champion decide to go outside the football weekend rental demographic. I definitely think Sacca is in, but I am going out on a limb and saying Sacca and Lori team up on this deal!