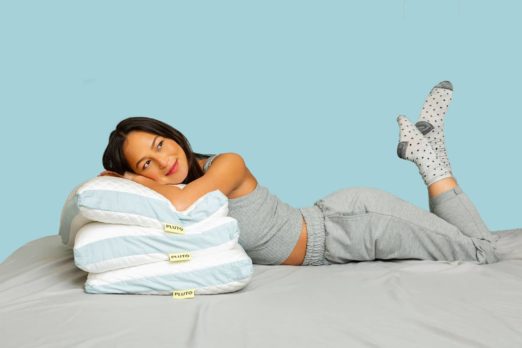 Susana Saeliu created the Pluto Pillow because she didn't have a pillow she liked. She, along with business partner Kevin Li, want to disrupt the pillow industry in the same way companies like Purple have disrupted the mattress industry. The Pluto Pillow is a pillow that uses an algorithm to customize a pillow design to your specifications. Simply answer a series of questions about what you want in a pillow, and they'll make one just for you.
The basics are each pillow has an inner foam core and an outer plush cover. The foams are varied in their firmness and the amount of plush material depends on how you answer the questions. They even let you take 100 nights to try your pillow out. If you don't like it, they'll issue a refund.
The way they make your pillow with the algorithm is through questions. They ask  what you like and dislike about your current pillow, whether you like a firm or fluffy style and so on. Based on your answers, they'll ship a customized pillow to you. In reality, there are 35 designs, they just make sure you get one that fits your desires. Susana and Kevin likely want a Shark to help blow their business up quickly. Will a Shark get in bed with this pillow business.
My Take on Pluto Pillow
I sleep on a Tempur-Pedic mattress. In the ten or so years we've had it, I've slept like a baby and I have troble sleeping on anything else. I tried the Tempur-Pedic pillow and did not like it – too hot. Now, I have a "My Pillow" and I love it, though I'm willing to try Pluto.
My wife has been bugging me to get two more pillows for the guest room, we decided we are going to spring for a pair of Plutos.  If we like them, we'll use them. If not, they'll be in the guest room. I'm down for anything that makes me more comfortable. I am in.
Will Sharks Fluff Up a Deal?
This is the sleeper pitch of tonight's show. I think this company will wow the Sharks with their sales and cause a feeding frenzy. Anything that disrupts an industry and has sales is going to be popular with the Sharks.
Robert loves direct to consumer plays, so I expect him to bid. Likewise for Kevin who will likely do a royalty type offer. I'm on the fence on whether Lori makes an offer or not. I think Daniel will make an offer to, but expect Mark to sweep in at the end, undercut the other Sharks and seal the deal.