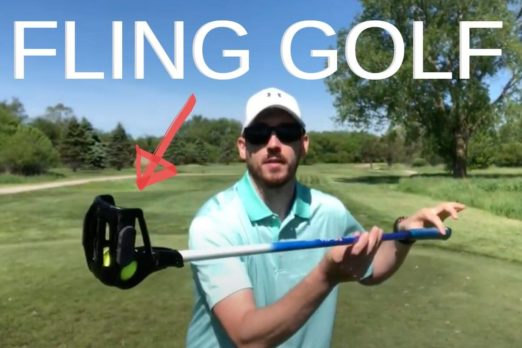 Fling Golf inventor Alex Van Allen and his childhood friends were an imaginative bunch. They'd combine sports to make a new game. That's how Fling Golf came to be – they combined lacrosse with golf and he's convinced he's going to change golf forever. What it is is a golf "club" that lets you fling a golf ball instead of using a driver. This gives you a little more control over your "drives." Once you get on the green, the club functions like a putter.
Van Allen and company president John Pruellage will present Fling Golf to the Sharks in Shark Tank episode 1221. They want a Shark's help disrupting the sport of golf. Golf needs some disrupting – since 2003, the number of players has declined 22%. Some of the reasons include the cost, the difficulty and its incompatibility with modern lifestyles. since 2003, about 200 courses a year have failed. Golf is in trouble.
Fling Golf could help save the day. Flingers can play in the same foursome with conventional golfers. As Van Allen says "think skiing and snowboarding." Courses don't need to do anything to accommodate flingers either. Since it makes golf more accessible, it may create more traffic at courses. There are 35,000 courses in the USA alone and Fling Golf is allowed on around 1700 now. The goal is for it to be allowed everywhere. Perhaps a Shark could help persuade more course owners to sign on to this new variation of golf.
My Take on Fling Golf
My first wife's family was big into golf and I played the game quite a bit until I hurt my back at age 31. After that, I didn't play for about ten years and even then, it was only once a year when we went to an outing with my (2nd) wife's family. My parents live on a golf course near us in Florida and they play 4-5 times a week. Two years ago, they treated my wife and I to 18 holes – I hadn't played in seven years. I hit two houses – on one drive! Needless to say, I was a little rusty!
I showed my parents the FlingGolf website and they are gonna show it to their course manager. The club they belong to in Massachusetts has Fling Golf, so I am gonna give it a whirl when we visit them this summer. If I like it, I am gonna get me a stick and join the club that allows it near me! My wife and I like sporting clays which is like golf but with shotguns. I am sure we'd like this as a pastime too. I am IN!
Will Sharks Have a Fling?
I think this pitch will result in a bit of a Shark fight. Expect multiple bids and a deal. I won't be surprised if there are multiple bids either. I think Mark ends up partnering with these guys. He's the perfect partner. He owns a sports team and I am sure he has the connections to help expand the number of Flinging courses. I really thing this is going to be a very popular sport.