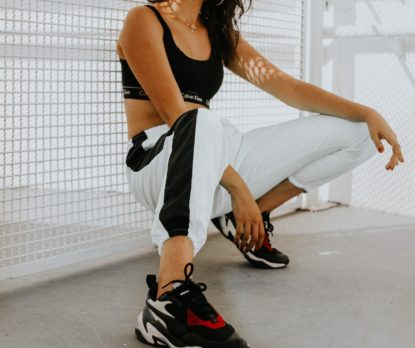 Jamie Montz invented The Original Stretch Lace to make tying her kids' shoes easier, When you have three little ones, it can be a pain in the neck to keep getting on your knees and tying them. They are also popular with the elderly and people with special needs because they turn any shoe or sneaker into a slip on. Because they're elastic, shoes still fit snugly. Athletes like them for this reason, their sneakers stay snug but remain comfortable if there is any swelling.
Jamie and her husband, David, are appearing in the Shark Tank in episode 1221. The company has been in business since 2015, so all her kids can tie their own shoes now, but I'm willing to bet the wear their Stretchlaces. Jamie got on the show the old fashioned way: submitting an email and a video. She claims to be a big fan.
Before jumping into entrepreneurship, Jamie worked in eCommerce for 20 years at a variety of companies – including Amazon. That experience undoubtedly helped her in the digital sales arena when she started the business. She also is eco friendly. All packaging and shipping materials are 100% recycled. It appears this is a mature business, perhaps she's plateaued and wants a Shark to help her take things to another level.
My Take On The Original Stretch Lace
My 16 year old daughter has these. Ever since she started a part time job last summer, she's been collecting Vans Sneakers. Every pair (except the slip-ons) has Stretch Laces on them. I don't think she's doing it for any other reason than looking cool. She leans towards the brighter colors. My wife wants a pair for her Vans and my daughter is gonna get them for her birthday.
I myself wear flip flops 99.9% of the time. If I'm not, I'm wearing crocs (for the beach) or my Birkenstock clogs (for going out to a restaurant). I almost never wear sneakers any more. When I go walking, I wear my Kenkoh sandals – they massage my feet as I  walk. I like the product, I just wouldn't use it.
Will Sharks Lace Up a Deal?
Since she's in her sixth year, she's already passed that dreaded fifth year where 50% of businesses fail. That's an accomplishment, so she must be doing something right. This is going to be one of those deals Lori is going to go for. It would be a good QVC product.
I think Jaimie and David will field multiple offers. Expect a royalty deal from Mr. Wonderful and a crappy bid from Robert. It could spark a bidding war, but it's a war Lori will win.