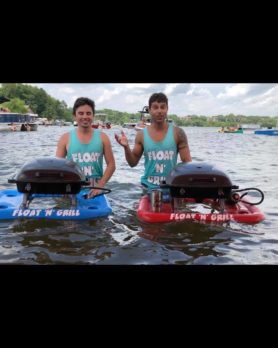 If you ever wanted to grill while you're in the water, Float 'n' Grill is for you. The product, featured in Shark Tank episode 1221, is the brainchild of Mikey Bashawaty and Jeremy Quillico, long time friends who enjoy hanging out on the sandbars of nearby Lake St. Clair and Lake Erie in the summertime. While hanging out, they want to eat and when they decided they wanted to grill in the water, they went looking for a floating grill. When they couldn't find one, they invented one and the Float 'n' Grill was born.
The guys tried to Kickstart the project back in 2017, but fell $199,138 short of their rather lofty $200,000 goal. Instead, they bootstrapped the project. By January, 2019, they had units in stock and ready to sell. They took it to boat shows and showed it to local news media. They even put it on Amazon. Apparently, they tried out for Shark Tank a couple of times before being selected this year.
The product itself sells for $229. It looks pretty much like one of those portable propane grills on a float. They make it in Michigan at International Mold Corporation in Clinton Township. It's patented, too. What these guys seem to need is help with their marketing. A Shark Tank appearance and a partnership with a Shark will  surely help with that.
My Take on Float 'n' Grill
We go boating often, especially in the summertime. We love to zoom over to Don Pedro Island. It's one of the prettiest beaches around and, since it's only accessible by boat, it's never crowded. They have grills and a pavilion there, so we cook out when we go. There's a sand bar down that way we hang out on, too. But the current is too swift to be dropping a floating anything in the water, unless it's anchored.
I'm on the fence on this product. I can definitely see this guy's point, but there are places we go that the Float n Grill would come in handy, like at Snake Island. Grilling ON your boat is dangerous, but they have grills that are suspended out over the water. This would be a good item for a pontoon boat with tables, but not on a fishing boat.
Will Sharks Float an Offer?
I am not sure about these guy's chances of getting a deal. If they don't go in with a valuation as unrealistic as their Kickstarter, they may have an outside shot. Unfortunately, I think the Sharks will be frightened away by potential liabilities. If this thing catches a wave, it could damage a fiberglass boat or severely burn somebody. If that happens, someone is gonna get sued and the Sharks won't want it to be them.