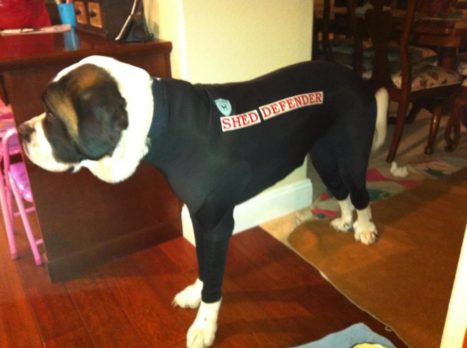 Myles and Tyson Walters pitch the Shed Defender to the Sharks in episode 1003. Normally, I try to put a positive spin on the products that are on Shark Tank, but I'm having a tough time with the Shed Defender. Tyson owns a Saint Bernard and the dog sheds – a lot. Just about everything Saint Bernards do is big. My friend had one when we were kids and its poop was as big as our bikes! When you have a Saint Bernard, you should expect big poop, lots of slobber, and lots of shedding hair.
Tyson didn't like the shedding, so he made a giant onesie/leotard for the dog. The theory is it traps the shedding hair and you can dispose of it easily. Nervous dogs also like the compression. It can even replace the cone dogs need to wear post surgery. Apparently, Instagram LOVES the Shed Defender. People like taking pictures of their dogs in ridiculous outfits. A quick look at the Shed Defender Facebook page will have you wondering what some of these poor dogs are thinking.
My Take on The Shed Defender
I think dog sweaters should be for those little ankle biting poodles my dog would normally mistake for a squirrel. If you don't want shedding, get a dog that doesn't shed much. Don't make the dog wear an undignified costume to satisfy your aesthetic wants. I think these look stupid. I mean just look at the picture at the top of the page!
For 16 years we had a North American mutt who was part Labrador retriever. She shed about four pounds of fur a day! We simply vacuumed a lot. I could see the Shed Defender getting smeared with poop and becoming a bigger mess than the one it was designed to cure.
We now have an American Bulldog. She's a beautiful dog and I'd never embarrass her with one of these sweaters. I'm sorry guys, I'm out on this.
Do Sharks Like Dog Sweaters?
I hate to say it, but this product is becoming hugely popular. They are advertising everywhere online and getting tons of press. People apparently like silly looking dogs. My guess is sales are pretty good based on the amount of online advertising I'm seeing. Businesses don't spend on the amount of impressions they're getting without some return on investment.
If the sales are strong, I'm predicting a bid and a deal from Robert. He likes these online plays for offbeat apparel, whether it's for humans or dogs. It think of the Shed Defender as a Tipsy Elves for dogs.