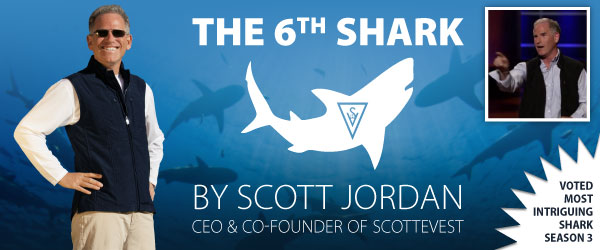 Hang on to your hats Shark Tank fans, Scott Jordan is BACK! The controversial season three entrepreneur will be a regular guest author on The Shark Tank Blog offering his reactions on each week's show. Shark Tank fans surely remember Mr. Jordan's entertaining and galvanizing appearance while pitching his Technology Enabled Clothing to the sharks. An all out Twitter war with Mark Cuban blew up following the show and Scott went at it with the outspoken billionaire.
Each week, Scott Jordan (voted most intriguing guest and the best episode of Season 3) will give his unique perspective on this week's Shark Tank contestants. But, he's not doing it from the sidelines! When Scott went toe-to-toe with the Sharks, it was clear they met their match. Turning down the largest offer on Shark Tank up to that point, and one by one calling the Sharks out, Scott has been remembered as highly unique.
In his ongoing series of blog posts, Scott will write and record his commentary as "The 6th Shark," and pick apart one or two of the standout entrepreneurs each week. His commentary will:
Get into the Sharks' heads to describe what they're thinking
Post-mortem some of the entrepreneurs appearing on ST about how they "should have" handled the situation
Give commentary as "The 6th Shark" about whether he would invest his money in this… what deal would he have offered or at what point would he call himself out.
Scott will write a brief intro paragraph or two summing up what he thought of the episode, then launch into video for the full story (what can we say… he loves the camera). If you have questions or feedback, Scott would love to engage in an active conversation.
About Scott:
Scott Jordan is the lawyer-turned-entrepreneur who founded SCOTTEVEST over a decade ago with his wife, but you know him as Scott of TEC-Technology Enabled Clothing from Season 3 of Shark Tank!  Sharp teeth and a sharp business sense make Scott more than a match for the Sharks.  Check out his (thriving) business here at www.SCOTTEVEST.com, read and watch all about his Shark Tank experience at www.SCOTTEVEST.com/sharktank or email him at [email protected].