Shark Tank has a very varied mix of entrepreneurs and businesses. In the season premiere of Shark Tank, an entrepreneur who wants to resurrect the ancient Chinese Art art of body walking massage therapy takes a swim with the sharks. Entrepreneur Tod Miller is a Phoenix, Arizona massage therapist and an avid iron man triathelete who started his massage therapy practice, Beyond Massage Therapy,  nearly 20 years ago.  The business has morphed into The Body Walking Institute.
As an athlete, Tod was the recipient of many massages and found body walking, or Ashiatsu as it is known in China, to be the most effective form of massage for his aching muscles. As a therapist, he claims the body walking technique can lengthen his (and other therapists') massage career since it put far less stress on the masseuse's muscles. Heels and toes are also said to be better able to work out tricky kinks in muscles that hands, fingers, and elbows can't get at.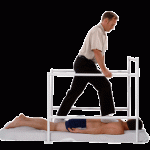 Miller's Body Walking system looks like a set of parallel bars to suspend the massage therapist while the client lies on their tummy on a mattress-like pad. Tod claims clients enjoy the massage so much, they often pass out (and drool-ICK) on the mat while being massaged. This brings back memories of the old TV show "The Jeffersons" when dorky neighbor Harry Bentley would pop in and ask George to walk on his back. I sometimes have my kids walk on my back too, it does feel good.
If you have ever had a professional massage, you know how good it makes you feel, Miller wants to take his new spin on the ancient art to the next level. He's offering certification classes and hopes to sell his equipment, which I hope, for his sake,  is patented. If he wants the Shark Tank venture capitalists to invest, he should offer them a massage!
I am leaning towards saying he gets a deal because his website lists a series of upcoming certification classes in Colorado, California, and Florida for his expanding Body Walking Institute. When it comes to a massage, I am "IN!"