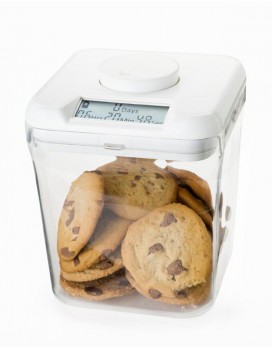 David Krippendorf and Ryan Tseng pitch their invention and successful Kickstarter project, Kitchen Safe, a time locking container, in Shark Tank episode 612. Kitchen Safe is just that: it's a safe for your kitchen. The idea is you put food items that are tempting in the locking container, set the lock, and it will not open until the time on the lock is up. If you just can't keep your mitts off sweets and other goodies, Kitchen Safe adds a layer of control.
Krippendorf got the idea for Kitchen Safe as a way to ration sweets. He'd put tempting foods in the time locking container and he couldn't eat them, until it was time. The locking container can't be bypassed: once something is locked up, you can't get it out unless you break the container. It's not just for food, either. Anything that can fit in the locking container can be removed from temptation: a child's toy, a teen's cell phone or car keys, even cash.
Apparently there are at least 765 people who like the idea enough to back it on Kickstarter. Krippendorf and Tseng raised $41,991 to get the first run of product made. Now they're available worldwide on Amazon. All the gadget review websites love the locking container concept and it looks like Kitchen Safe is knocking it out of the park.
Like other start-ups, they're likely looking for cash to fund further production and some Shark help getting into big box retail.
My Take on the Kitchen Safe Time Locking Container
This looks like a nifty gadget. At $55, it's a tad pricey, but it could be used as a good way to help with will power in people's homes. We don't keep a lot of sweets around the house, but stashing Halloween candy in a Kitchen Safe is a great idea. Confiscating a cell phone or car keys as punishment is a common parental ploy and having the confiscated items under lock-up yet in plain sight is a great reminder of consequences for a wayward teen.
I am not sure how well it works as a dietary aid; if you wanted cookies bad enough, you could run to the store. I suppose it's like a first defense against temptation until the initial craving wears off. Maybe I could use it to time cigarette consumption! I think we'd utilize this in our home for a variety of purposes. It would be a great Christmas gift idea, too. Put some goodies in the Kitchen Safe and time it to open on Christmas Day.
At best, Kitchen Safe is a kitchen novelty, but a fun and useful one. I am sure a lot of people will like the idea, but will the Sharks?
Do Sharks Lock up a Deal?
Kitchen Safe recently revamped their website, but that's common for Shark Tank entrepreneurs these days. Sales will ultimately determine the Sharks' interest, not Kickstarter success.
In the ABC promo for this episode, Kevin rips the idea to the point where it looks like Krippendorf is going to cry, so I don't think he's going in. Mark and Daymond probably won't invest either. The only two Sharks I can see making a play for this are Lori and guest Shark Nick Woodman.
The locking container concept might be a good QVC play if Lori thinks it's a hero. It's easy to demonstrate, has mass appeal, and it's moderately priced. Lori would want to get the costs down so she could put it out at a $29.99 price level. Woodman might just think it's cool enough to invest. He has lots of manufacturing connections, so he'd be a big help there.
I'm not sure Kitchen Safe gets a deal, but I think it will be a very successful product.