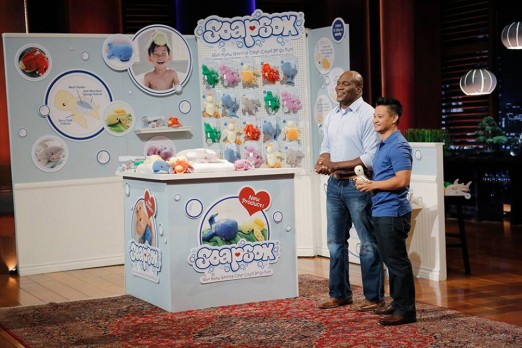 When is a Shark Tank loser a Shark Tank winner? When the product has open purchase orders when taping, that's when! Sales trumps all in the Shark Tank, but Soapsox left without a deal, even though their sales were good, because they stuck to their valuation. Heart Pup was a Shark Tank winner too, but they had no open orders, they're still in the infancy of their start-up phase. Despite that, Heart Pup left with a deal. Which business is the real winner?
This guest post is written by Dan Casey, founder and CEO of purchaseorderfinancing.com
I'm so excited Shark Tank is back for another season of spotlighting creative entrepreneurs. We get calls every day from business owners looking for financing. They're on the brink of taking their business to the next level. Just like the Sharks, we listen to their story, ask questions and determine whether or not this is an opportunity we can finance (without taking the equity bite of a Shark).
I'm always curious to watch and guess which business the Sharks will fund. In episode 603, I got it completely wrong. If I heard the same pitches from Soapsox and Heart Pup, I would have worked harder to come up with a deal for Soapsox. All financing businesses have different lending requirements, so let's look at why I would have lathered up the soap and stuck the dog on a leash.
SCALABILITY
Soapsox has shown it can ramp up production to meet demand with its incoming orders from 50 Nordstrom stores. They have a manufacturer in place that has already been fulfilling orders. Heart Pup is at a much earlier stage in its business and is still creating these by hand. To meet increased demand, she has to vet the right clothing manufacturer. She quoted her current cost at $16. I'm wondering if that included her time to make them. With the cost of high-end fabrics plus labor, will she be able to find a clothing manufacturer to keep her costs down?
CREDIBLE BUYER
Heart Pup's sales are generated online, whereas Soapsox has a confirmed purchase order from Nordstrom. It's hard to anticipate future online sales, whereas a purchase order from a credible buyer is a guaranteed sale. You can ramp up to meet that order knowing you'll get paid (Nordstrom). Internet sales can spike and drop without reason. If you increase production, it's uncertain whether or not your inventory will be purchased.
HEALTHY MARGINS MAKE A SHARK TANK WINNER
Both businesses had healthy margins. There was some criticism about Soapsox' pricing. It costs them $3.66 to produce each Soapsox. That's a 500% mark-up if they continue to sell it at $19.99 price point. Even if they decided to lower their price point, they have flexibility within the price range to still reap a fair profit. Heart Pup's profit margin was even higher. It is a niche, fashion product. It will be interesting to see if it can sustain the higher prices. I noticed all her prices on the website have been lowered.
BRAND STRENGTH
First impressions are vitally important and that's why brands are important. Consumers remember strong, consistent brands. That drives mass appeal, which is important to all investors.
Soapsox has built a strong brand image. Their logo is playful and engaging. It's relevant to kids (their product category). The name is memorable and reinforces the value of their product.
Heart Pup is an engaging name, but the logo doesn't work for me. It doesn't feel like a brand, it looks like a type treatment. It doesn't use color or clever graphics, so that doesn't catch my eye. It's not something I'd remember.
Every investor is different. Sometimes a Shark will insist, "I'm not the right investor to help your business." Maybe they want to partner with you and help you grow. Maybe they just want to invest money and let you take the lead. Knowing your investor will help you position your company for a successful partnership.
Dan Casey, founder and CEO of purchaseorderfinancing.com, believes every business has a story to tell. He's been listening and helping small businesses grow exponentially since 2002 using a creative combination of finance tools. He's been featured in publications including Entrepreneur Magazine, Entrepreneur Online, Small Business Trends Online, The Washington Post, Crain's Chicago Business & American Express Open Forum. 

Visit www.purchaseorderfinancing.com and be sure to mention Shark Tank Blog to get a free subscription to Fast Company or Entrepreneur magazine.*
*Must qualify for financing to receive special offer exclusively for SharkTankBlog.com readers.