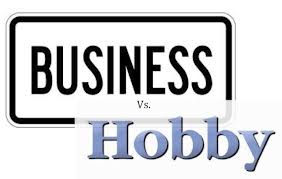 "It's a hobby, not a business." It's a criticism we hear often in the Shark Tank. The words can sting, especially if you're working day and night to make your business succeed. How do you lead a business beyond a hobby?
Hobby vs. Booming Business
When you love what you're doing, you don't mind working hard. As your business grows, however, you spend less and less time on your favorite aspects of the business. If you want a lifestyle business, then keeping it small will allow you to stay involved in your favorite tasks.  If your vision is to turn it into a thriving business, you can't continue controlling every aspect. You must hire help and learn to delegate effectively.
Blinded by Love
Research your market and be open to feedback. Don't become so attached to your dream that you can't be objective. There's always room for improvement. Concentrate on your customers' problems and how your product/service uniquely helps them. It's better to dominate a smaller market than dilute your company's resources in appealing to a broader market.
Growth is Stagnant
There's a promising future for your company, but you don't have the skills to take it to the next level. Sales have begun to plateau and you need a long-term plan. While it's humbling to admit, hiring someone else to create and manage the business' growth strategy is a good option. At first, this strategy might accelerate losses in order to cover the salary. If you've hired the right person, however, they will turn the business into a money-maker while taking care of the complexities you don't enjoy managing.
Measure Success
It's important to have systems in place to monitor what's going on and drill down into the details of potential problems. The systems you used when you started your hobby won't provide the metrics you need to manage a growing business. You need to forecast cash flow, margin and revenue in real time. You need to know if a project is going to be profitable now, not 60 days after its complete. Without consistent cash flow, your growing business can quickly become yesterday's news. By tracking margins and expenses in real-time, businesses can reduce their risk dramatically. If you run into a cash flow crunch, consult with an alternative financing company to help bridge the gap. Booking revenue is important, but does no good if there's no cash to cover bills.
So what do YOU want, a hobby or a business? Only you can decide the vision for your company. Develop a road map early so everyone in the company understands the goals and can support them.
Dan Casey, founder and CEO of accountsreceivablefinancing.com, believes every business has a story to tell. He's been listening and helping small businesses grow exponentially since 2002 using a creative combination of finance tools. He's been featured in publications including Entrepreneur Magazine, Entrepreneur Online, Small Business Trends Online, The Washington Post, Crain's Chicago Business & American Express Open Forum. 
Visit www.accountsreceivablefinancing.com and be sure to mention Shark Tank Blog to get a free subscription to Fast Company or Entrepreneur magazine.*
*Must qualify for financing to receive special offer exclusively for SharkTankBlog.com readers.