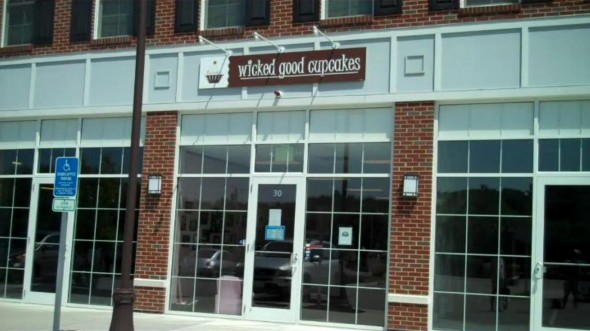 I met up with Tracy Noonan at her Cohasset, MA location to get a Wicked Good Cupcakes update. Tracy and her daughter,  Danielle Desroches, struck a deal with Mr. Wonderful in Shark Tank season four; they got $75K and gave him a $1.00 royalty for every cupcake sold until his investment was returned, then $0.45 for each cupcake in perpetuity. Cohasset isn't too far from me, so I hopped in the car and got an in-person Wicked Good Cupcakes update. I also took Tracy to lunch and we did a video for Hot Dog Stories too!
Wicked Good Cupcakes Update: 2 NEW Retail Locations
The month following the original air date, Wicked Good Cupcakes opened a Faneuil Hall retail location. Kevin O'Leary came to town and made an appearance at the grand opening. Now visitors to Boston can have some Wicked Good Cupcakes while strolling around downtown and they can send them off to friends and family!
Tracy and Danielle didn't stop there, on August 1, 2013, they'll open a third retail location at the South Shore Plaza Mall in Braintree, MA. Wicked Good Cupcakes also obtained a 15,ooo square foot baking facility in Walpole, MA. Clearly, the cupcake empire the mother/daughter team started is growing at a healthy pace.
Wicked Good Cupcakes Update: Sales Skyrocket
The first thing I noticed when I went into the Cohasset location was Tracy and Danielle have a clean, professional, and efficient bakery operation. They didn't have Mr. Wonderful's money when they set up this shop, they were self funded with no debt. Tracy said O'Leary has already been paid back his initial investment and is just collecting royalties at this point.
In another example of the "Shark Tank Effect," Tracy told me their online sales following their first air date were nearly a quarter of a million dollars. THAT's a lot of cupcakes! She went on to say they expect to exceed $2 million in sales this year. Next year's numbers should be even better as all three retail spots will be open the entire year and will add to the bottom line of their growing online sales empire.
Wicked Good Cupcakes Update Segment Shot
Mr. Wonderful was back in Boston on June 18, 2013 to shoot a Wicked Good Cupcakes update segment for Shark Tank Season 5. Much of what she told me will likely make the segment, but the producers always have a little surprise. When the segment will air is still up in the air, but it's clear Wicked Good Cupcakes is yet another Shark Tank Success story!
I shot my own Wicked Good Cupcakes update segment while I was in Tracy's shop. It's not up to ABC's production standards, but it's nice to see the entrepreneurs who appear on Shark Tank without all the bright lights and glitz of the show. We also went out to lunch to do a video for Hot Dog Stories and Tracy pulled a fast one on me! After that, Tracy sent home some cupcakes for my girls to enjoy. They were WICKED GOOD!