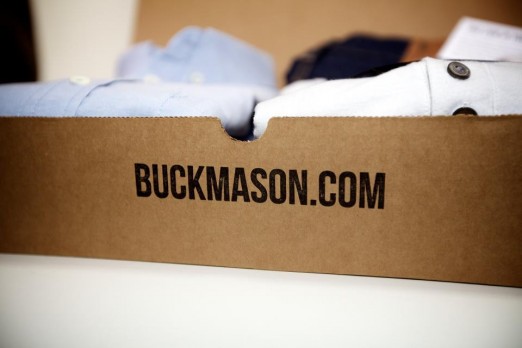 Sasha Koehn and Erik Shnakenberg are trying to brand an iconic, All-American men's clothing line and they hope a Shark will give them a boost in episode 624. The vibe they're looking for is an existential, modern-day brindle stiff: the lost archetype of the independent, sensitive, rough-hewn, hard-working American male. The clothes reflect that effort. Buck Mason sells denim, tee shirts, Oxford shirts, and accessories; simple clothes that show what they call "classic heartland cool ."
Part of their branding is a pair of films called "Homeward." The short films portray a modern-day cowboy of sorts searching for meaning and ultimately finding it in the girl he left behind in "the city." Each film tells a side of the  story: his and hers. The films won awards at the international Fashion Film Festival, so they're well done – in fashion terms anyway. Throughout both, the imagery suggests that part of finding your way home is donning some men's clothing from Buck Mason.
The clothes are a tad pricey: eighty bucks for an Oxford cloth shirt and $135 for a pair of jeans. What Buck Mason is selling is a style and attitude that urban hipsters will identify with in their existential quest to look cool while staying true to their American roots. In other words, these are small town clothes for big city life.
They have an interesting way of selling their men's clothing: packages. Buck Mason ships groups of items to customers and lets them return what they don't like. By packaging outfits and ensembles together, they take the hassle out of shopping. Guys will be happy they don't have to shop and feel secure knowing they'll look cool enough to score a cute blond (like the one in the films). Buck Mason sells online and in their LA area shop, they probably want a Shark to help with broad distribution so they can become the iconic men's clothing line they're portraying themselves as.
My Take on Buck Mason Men's Clothing
The clothes on the Buck Mason certainly look nice enough, but I am not a customer. My standard outfit is jeans and tee shirts, but I don't feel the need to drop more than thirty bucks for a pair of jeans. I can't remember the last time I paid for a tee-shirt! Perhaps I am at the age where I just don't care about brands or looks or attitudes – I suppose I did when I was younger, but expressing an attitude (other than HERE I AM, THIS IS ME) through men's clothing is just not my style.
To be perfectly honest, I think anyone who spends $135 for a pair of jeans is a sucker. That said, there are a lot of those! I do like the fact that Buck Mason manufactures its clothing here in the USA. For that, I give them credit for authenticity and a bit of a break on their price point. Making things in America costs more because men's clothing companies can't hire twelve cent an hour child labor in a squalorous factory. If they were making their clothes in Sri Lanka and put out the Homeward films, I'd skewer them!
Fashion branding is all about the illusion of what the fashion says about the individual purchasing it. Lots of men will probably buy into Buck Mason's branding and, more importantly, women who buy their men clothes will too. While I think they are doing a nice job of conveying their attitude and brand, it's not for me.
Will the Sharks Buck up and invest?
Clothing lines, particularly esoterically branded men's clothing, are a tough sell in the Shark Tank. The Sharks want mass appeal and mass markets. They'll like the low amount of SKU's Buck Mason has. Buck Mason has solid sales, too – another plus for the Sharks. The issue is going to be which Shark bites.
Robert likes online businesses; if Sasha and Erik are committed to a robust online sales model, he could bite. Buck Mason probably isn't for Lori, so she'll be out. Mr. Wonderful will throw out a royalty offer if he doesn't otherwise crucify them. Daymond, always an obvious target for men's clothing – or any other fashion related – businesses, may bite if the guys show they know the industry. Mark invested in Rufflebutts based on the knowledge of the entrepreneurs involved. If he feels Sasha and Erik can take their line to the next level and deliver profits without hand-holding, he could bite too.
I'd say it's a 50-50 shot for Buck Mason getting a deal, but only if their pitch blows the Sharks out of the water.