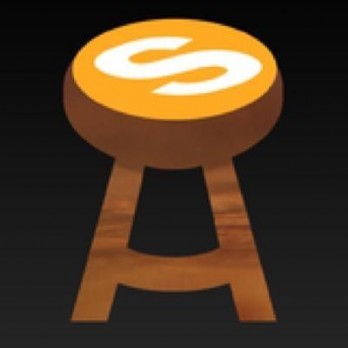 When Detroit native Jamie Manning came to Boston, he made bar stool reservations by paying someone to save him a seat at his favorite bar so he'd have a good seat for a Bruins playoff game. That's how SnagaStool was born. He got together with Adriano Varassin and they created an App that saves seats at bars.
Using SnagaStool is a win/win for both patron and bar owner. They call the app an "Open Table for Bars," with a twist. The twist is bar owners get revenue from the saved seats. Bars can charge for bar tool reservations for a big event (think Super Bowl, World Series etc) and they can use the app to entice patrons to come in on slow nights with incentives – like a free appetizer.
My Take on SnagaStool
My wife and I love going to bars – we met in a bar! We'll often choose to eat at the bar if we are going out to dinner alone. Sometimes, we have to "hover." Hovering is the art of identifying who's close to leaving and standing in close proximity so we can snag a bar stool when they leave. Over the years, we've become expert hoverers, often using a "divide and conquer" approach. There's a certain amount of sport involved in this process, but after twenty minutes or so, we want to sit.
Despite our long-standing success at hovering, having bar stool reservations would come in handy if there's a big crowd. I think we'd use SnagaStool in unfamiliar venues to assure a seat and not have to go through the stress of hovering. It would be cool to walk into a jamming bar and go belly up without a lot of hassle; we'd feel special, too!
That's what the SnagaStool guys are hoping for: bar patrons who want to eliminate the unknown. If I know we can walk into our bar of choice for the evening and get a seat right away, I'm more likely to want to go there again. There's also the convenience factor; we can reserve a restaurant table or buy a movie ticket or almost any entertainment or sports ticket with an app, why not a bar stool?
This is an app I am getting. We go out 4-6 times a month and encounter crowds (and the aforementioned hovering) at least 50% of the time. There have been times we've switched plans last-minute due to venues being too crowded. Downloading SnagaStool will eliminate that.
The only downside I see is limited venues. Since SnagaStool is based in Boston, there are a lot of places for me to go. Some poor schmuck in Albuquerque may not have the same choices – yet. The key to SnagaStool's success is signing up bars. It could prove to be a daunting task or bar owners familiar with Open Table will readily adapt the program. The other problem is bars that don't honor the SnagaStool reservations; that behavior would have a negative long-term effect on their business, but it wouldn't help me if I was the one who got stiffed. If the SnagaStool guys can overcome the downsides, I think they have a winner – I am IN with a seat in front of a big screen TV and a pint of Guinness!
Do Sharks Snag an Investment?
The first thing that came to my mind when I saw SnagaStool was EZ VIP, the nightclub reservation service that got a deal in season three. EZ VIP got a lot of hype when Daymond John brought in Pit Bull to be the "face of the business." At the time, it appeared that business was going places. EZ VIP fizzled because nightclub owners were inconsistent in honoring reservations. The Sharks will remember this when SnagaStool is pitching.
I believe SnagaStool can overcome the inconsistency that plagued EZ VIP because there's far less money involved. Nightclubs get HUGE dollars (sometimes tens of thousands) from ballers who want VIP service. A local sports bar doesn't usually charge for seating, so added revenue will be a plus for them. There are also a lot more people who will drop $20-$50 for seats at a bar for the big game as opposed to people who'll drop ten grand for the privilege of spending $1000 a bottle on champagne. SnagaStool is chasing a different customer.
If the numbers work, SnagaStool will see offers. Their website has "Mark Cuban" written all over it. It's hosted on RackSpace – a Cuban favorite – and it has the "look" of a site Cuban would approve of. Mark has been known to knock back a beer or two at "regular" bars (though he probably wouldn't have a problem getting a seat anywhere) and he'll see how the concept appeals to  the masses. If Mark likes the guys, the idea, the execution, and the numbers, he'll be all in. Whether any other Sharks join him remains to be seen, but I am predicting SnagaStool snags a billionaire investor.