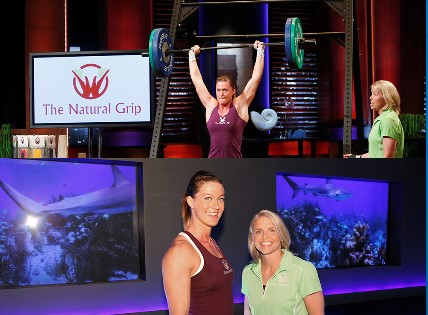 Army Corps of Engineers Captain and entrepreneur Ashley Drake, along with CrossFit athlete Danielle Sidell, pitch The Natural Grip, an athletic training hand protection system, in Shark Tank episode 608. If you've ever lifted weights or done pull-ups for an extended period of time, you know why Drake invented the Natural Grip. It's kind of a cross between a training glove and training tape that prevents your hands from getting shredded while working out.
The Natural grip is made from Zinc Oxide 100% cotton tape, which makes it stronger, more breathable, and better than standard athletic tape. Each set of Natural Grips is custom-sized for the individual based on their ring finger size and they last 3-6 months. Slip on the grip, secure it with tape around your wrist, and go work out! Whether you're a gymnast, weight lifter or someone who does a lot of pull-ups, your hands won't get cut or blistered, which ultimately allows you to work out more.
The product is only available via the company's website, something Drake likely wants to change. Since the product is custom-sized for each individual (they're available in different colors too), mass distribution could be a challenge. That's probably why she's in the Shark Tank.
Danielle Sidell impresses Robert with her demonstration during the pitch and even gets him to try it out on a pull-up bar. Mr. Herjavec appears impressed with the product and Ms. Sidell's athleticism, but will it lead to a deal?
My Take on The Natural Grip
I am by no means at the athletic or fitness level of Danielle Sidell, and I probably never will be, but I do walk 5 miles a day and do 5-10 pull ups 5 days a week. That's hardly iron man material, but at age 50 it keeps me in decent shape. I used to lift free weights in college and I remember the blisters from overdoing it. I had weight lifting gloves, but they didn't always do the job.
The Natural Grip claims to cure that problem and, based on the numerous testimonials on their website, I believe it. At under $20 for a pair, it's well worth the money for a serious trainer or athlete. Twenty bucks to save your hands from blisters is nothing – I wonder if they'll work raking leaves!
There's a big market for this product and the exposure Drake gets on Shark Tank should increase her sales. She'll go even bigger if she can get a grip on a Shark.
Do Sharks Get a Grip and Invest?
This is a simple product that doesn't need an awful lot of R&D; Drake can't have too much of her own cash sunk into the Company, so she's likely looking for help with scaling up distribution. On the Natural Grip website, they list 9 distributors (Danielle Sidell is one of them). Drake needs to get about 100 times that many to start making serious cash. The Sharks who can help her get distribution will be the ones who are interested.
As long as there aren't any glaring money issues and there is some proof of concept through sales, Drake could net a Shark. The only objection she could possibly face is the product isn't proprietary. Theoretically, anyone could fashion hand grips from Zinc Oxide tape, so Drake needs to show the Sharks what makes Natural Grip special.
That said, Robert's enthusiasm could mean he makes an offer. He likes companies he can "add value" to and he'd likely do a good job with Natural Grip. I don't think Lori goes for this, since it's too "niche." The same goes for Mr. Wonderful, though he could get creative with some sort of financing deal if he sees an opportunity. Mark will likely pass, since it looks like it would be "too much work" for him. Daymond could make a bid, since he's into health related products.
I think The Natural Grip fields an offer or two and could leave with a deal if it's mutually beneficial.