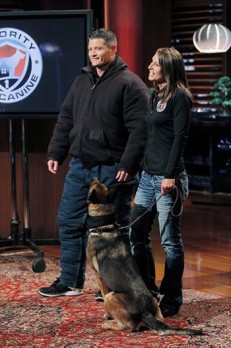 If you have a dog, good dog training is imperative to the well-being of the dog and its family. When you want a personal security dog, dog training takes on a whole new level of importance. Wade and Lori Morrell know this, you can tell by the way they train their dogs. They're pitching Priority 1 Canine, their personal security dog training business, in Shark Tank episode 608.
Wade's a former Marine who trains police and military dogs all over the world. Now he and his wife are making a business out of training and providing personal security dogs to anyone who wants one to protect their home and family.
When you hear the words "personal security dog," it may conjure images of a vicious, snarling Doberman or German Shepherd that will attack without provocation. That's not what the Morrells or Priority 1 Canine are all about. They conduct all their dog training in their own home (dogs are not kept in kennels) with their family pets and kids. They are trained to protect and, judging by the video promos, attack when necessary, but they are good, family dogs first.
The breeds they work with, besides German Shepherds, are Rottweilers, Dutch Shepherds, Belgian Malinois, Giant Schnauzers and Dobermans. They believe a "good dog is a good dog," so they treat the dogs like the family pets they will eventually become, even if they're family pets with some "extras."
Once you choose a dog from Priority 1 Canine, they provide the best, state of the art dog training available. You can tell the Morrells care for the dogs they train and they love dogs as pets, but make no mistake about it, they train and sell security dogs. These are the types of dogs that will protect home and family as well as cuddle up at night with the kids in their room.
Their website says they don't train and sell many dogs per year. Their methods would make it impractical. My guess is they want to scale by training and certifying more dog training professionals to work the Priority 1 system.
My Take on Security Dog Training
I have my own personal security dog. Her name is Bailey and she's a Shepherd/Lab/Pit Bull mix. We got her from an MSPCA shelter as a puppy and I trained her myself. I may not have the expertise or the credentials the Morrells have, but Bailey was trained to be our own personal security dog. She will not let someone who "doesn't belong" on our property, period. She's trapped more than one wayward salesperson, utility worker, and delivery person on our front steps! If she doesn't think you belong, you WILL BE detained!
Bailey may be ferocious, but she's as gentle as a lamb with our 5 kids who grew up with her. She's smart, loyal, and protective. I trained her to be that way, so I get where the Morrells are coming from with their dog training philosophy. A dog is an excellent deterrent to crime; most burglars won't even bother with a house if there is a dog present, never mind the 80 pounds of fur and fury that is Bailey!
I have always had a dog, I grew up with a Doberman in the house; nobody messed with that house either! There will come a day when Bailey isn't with us anymore and I know, after a brief period of mourning, another four-legged friend will become part of our family. Dog training is long, difficult work and it isn't beyond the realm of possibility that I'd use a service like Priority 1 Canine. My wife LOVES Schnauzers but isn't fond of small dogs (she calls them sh__ kickers). When I told her there was such a thing as a Giant Schnauzer (they can get up to 90 pounds) she decided that would be our next dog. As much as we love Bailey, we do not like the 8 tons of fur she sheds in our home; it is highly likely our next dog will be a Giant Schnauzer.
Whether we get one that's pre-trained or do the training ourselves remains to be seen, but if we had the money for professional dog training, it would be a good investment. What better way to spend your money than on a loyal protector and friend?
Will the Sharks be Dog Sharks?
Dog training doesn't sound like a scalable business, but when you look at some of the athletic businesses that were funded in the Tank, you can see some similarities. Daymond invested in Billy Blanks Jr. who wanted to certify fitness instructors all over the country. Mark invested in Surfset Fitness who did essentially the same thing. Both businesses duplicated themselves by training the trainers; Priority 1 Canine could do the same, but with dog training. It's the only way the business can grow based on the Morrell's philosophy of bringing their security dogs up in a home environment.
If that's Morrell's pitch, he may find a Shark or two interested. I don't think Lori or Mr. Wonderful would go for it, but Robert, Daymond, or Mark might. Robert's always the obvious Shark to target when there are dogs involved, but I bet he won't be dropping the German Shepherd the Morrells bring into the Tank! If Mr. and Mrs. Morrell position their pitch right, they just might get a Shark to bite.