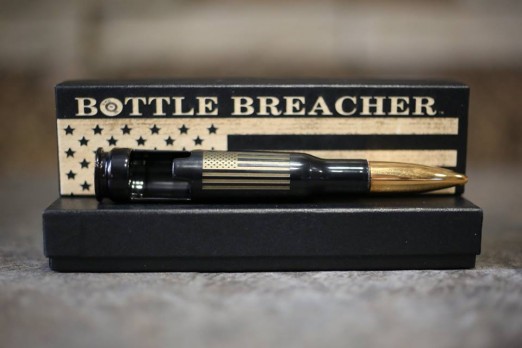 Navy Seal turned entrepreneur, Elijah Crane hopes the Sharks open up and invest in his bullet bottle opener, called Bottle Breacher, in episode 608. Crane started selling his version of the bullet bottle opener on Etsy a couple of years ago. The reason I say "his version," is there are many bullet bottle opener products available on the market today.
What makes Bottle Breacher special is active duty military, reservists and Veterans hand polish and finish each product. This is a 100%, made in the USA product. It's also a "green" product, since they use re-purposed materials (spent 50 caliber bullets) to create their product. They also customize their bullet bottle for groomsmen gifts and corporate ad specialties.
Crane, who is no longer an active Seal, is a dad who wanted to start a business "because he wanted to make something unique out of products he used when he was deployed." The openers are unique and sure to get conversations started; just don't take them on a plane! The Bottle Breacher website warns the TSA might have a problem with a 50 caliber bullet in your luggage, even if it isn't a live round.
My Take on The Bullet Bottle Opener
Everyone needs a bottle opener sooner or later. I have one on my fridge, several in my utensil drawers, one on my keychain, and one in my travel kit. I never want to be without a bottle opener! A bullet bottle opener would be a cool addition to my collection and would be a neat thing to have on the bar. It would be a cool gift item, too.
The only problem I have with the product is there are a lot of other bullet bottle opener products out there. I saw one in Urban Outfitters last week for $9.99. It didn't look as shiny and polished as the Bottle Breacher, but it was a bullet bottle opener. A quick Google search yields many results.
That said, the other bullet bottle opener companies aren't advertising that they are using active duty military and Veterans to assemble their products. That's a good selling point; most Americans are patriotic enough to buy a made in the USA product, and the military angle is a good selling point too. The other companies aren't appearing on Shark Tank either!
The customization Bottle Breacher is unique in the bullet bottle opener space, which makes them different enough to establish a brand. As long as Mr. Crane can differentiate his product from others like it, he should have a successful business. I'd buy one, probably as a gift, but will the Sharks buy it?
Will Sharks Bite the Bullet and Invest?
The biggest objection the Sharks will have is the same one I brought up: the product isn't proprietary. Anyone who can lay their hands on some spent ammo can duplicate this business. The key to Bottle Breacher's success is branding. They'll get a good opportunity to create awareness for their product with a Shark Tank appearance, but is that awareness and branding sustainable?
Penetration into the bridal gift and corporate ad specialties market is key to Bottle Breacher's success too. If Crane can demonstrate he has solid market penetration in these markets, his case for the Sharks will be stronger.
I'm not sure if this is a QVC product, so I'm not sure if Lori goes for it. I honestly can't see any Sharks getting too excited about this unless the sales numbers are super solid, BUT I think Bottle Breacher does get a deal. The reason I say this is they signed a lease for 1,200 square feet in July 2014. The address is listed as "industrial/warehouse" space.
Assuming they taped in June with the other military entrepreneurs from episode 608, a July lease would coincide with a Shark Deal. I am not sure which Shark invests in Bottle Breacher, but my gut tells me they get a deal.