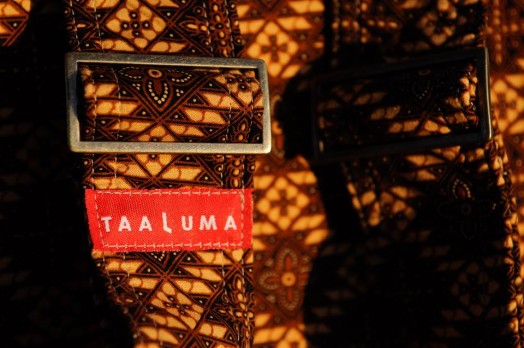 Jack Dufour and Alley Heffren are two young, adventurous college-aged kids who practically have their back packs surgically attached to their bodies! They like to travel, and need a good back pack while visiting the many places they go to. College kids in general are big into back packs, whether it's for lugging books around or packing for a trip.
They got the idea for Taaluma Totes while traveling in Uganda. Alley got a piece of fabric she liked and had a skirt made out of it. Jack, not to be outdone, got a back pack made. They thought the colors were cool and other folks would like back packs made from wild, original fabric from far away places. They also thought they could create a business out of their idea that would give back to the developing or under developed countries where their fabrics are sourced.
What they do is source fabric, make a batch of limited edition back packs out of it, and take 20% of their profits from each "run" to make micro-loans in the sourced fabric's country of origin. They loan to small farmers and villagers. Further evidence of their social consciousness is they use American disabled workers to sew and assemble their products.
They tried to get some seed money when they had an Indie Go-Go campaign that raised about $2300 (on a $10,000 goal). Even though they fell short of their mark, they managed to get the business off the ground. They hope a Shark will give them a boost when they pitch the business in episode 617, the "college business special."
My Take on Taaluma Totes Back Packs
With five kids, our family has seen it's fair share of back packs over the years. My kids need a new back pack about every other school year, so we buy A LOT of them. All my girls LOVE the Taaluma Totes designs, so I would probably buy one (or two, or three). The added feature of helping both disabled American workers and folks in developing countries makes a Taaluma Totes purchase an easy, "feel good" decision.
Taaluma literally means "culture" in Swahili and Dufour and Heffren are creating a global culture, one back pack at a time. Since the fabrics they make their back packs from are made in small batches, each run is effectively a "limited edition" product. Buyers get a taste of a foreign culture while getting a utilitarian product.
Back Packs in and of themselves are a ubiquitous product. Folks who want some pizzazz will like Taaluma Totes back packs. I like them too; I am IN.
Do Sharks Pack it in and Invest?
The Sharks ought to like the Taaluma Totes story – who wouldn't? The real test is whether the business is "investable." If Dufour and Heffren have some sales and a solid plan, they could garner some interest. If the Sharks sense they haven't though things through, they could be in for a rough swim in the Shark Tank.
I think Daymond and Lori are the best targets for Taaluma. The colorful designs, universal appeal, and low price could appeal to Lori's target market. Daymond could certainly plug back packs into his fashion portfolio. I don't think Mark, Robert or Kevin make a play.
If Taaluma Totes is going to do a deal with a Shark, they'll need to rely on their business, not the idea of their business.