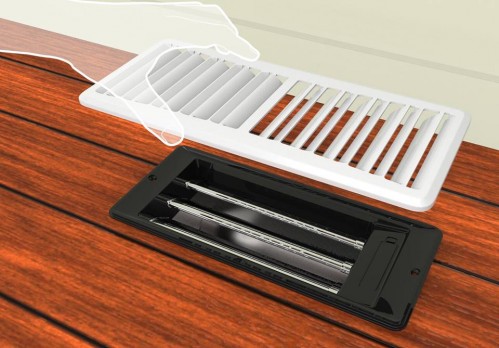 Ryan Fant got inspired to invent the Keen Home "smart vent" because he didn't like warm air blowing in his face when he was trying to fall asleep in his college apartment. He thought if he had some sort of smart phone control, he could close the vent right above his bed; he couldn't reach it because he had 16 foot ceilings. When he went home to his parents' Illinois home, he started experimenting with their vents and found closing heating vents in unused rooms could save up to 30% on heating costs! He set out to design a smart vent he could control from his phone and realized he had a potential million dollar idea.
Before he even had a prototype, he had interest from investors. He enlisted the help of a few business school pals to build a company and a product out of his idea, and before they knew it, they had a successful Indie Go-Go campaign, won a business school entrepreneurial contest and had over $1.5 million in venture capital. At the 2015 Consumer Electronics Show, they attracted so much interest, their booth was swarmed!
Fant brings his smart vent to the Shark Tank in episode 617 – a special episode featuring businesses started by entrepreneurs while they were in college. He taped the segment before the CES accolades, which attracted additional investor interest, so he probably didn't have the capital at the time.
While the Keen Home smart vent is a fairly expensive piece of equipment (about $85 each), the energy savings makes the cost worth it. With the Keen Home vents, homeowners can create different zones without adding additional thermostats or other hardware. Vents can be programmed to open and close at certain times, so heat (and money) isn't wasted on rooms that aren't being used. The Keen Home smart vent is one of many new products utilizing "the internet of things" to control regular, everyday objects.
My Take on the Smart Vent
I live in the Boston area and we have forced warm air heat. During the winter months, our heating bills are around $400 a month. We keep the vents in the spare bedroom closed unless it's occupied. We have a smart thermostat that turns the heat on in the morning while we get ready for the day. The heat goes down until about 4 PM when it cranks up again. The thermostat brings it back down after 9 PM while we sleep. We figure the smart thermostat saves us about $100 a month.
Being able to zone off certain rooms could probably drop a 20-30 bucks a month off our bill, too. Even with the heat down during the day, not heating the bedrooms would save heat. The more rooms a house has, the more savings. I also like the fact that I could control and program each vent from my phone.
More and more products are being designed to give people control over "things" in their homes. Even on Shark Tank, we've seen locks, garage door openers, even door bells that can be controlled via smart phone. Like it or not, it's the future; the good thing is this added measure of control usually adds up to savings over the long haul. This is certainly true when it involves heat!
In the future, houses will be built with this technology, but there is a HUGE market for retro-fitting houses with the latest gadgets. If the smart vent works as advertised, it's a big winner. I am IN!
Do Sharks Vent?
Keen Home could provoke a bidding war, if all the Sharks see the value. Clearly the "techie Sharks," will be intrigued. Mark Cuban is always willing to take a flyer on innovative technology. Watch for a lot of chatter between him, Mr. Wonderful, and Robert.
It seems like any time there's a product that takes an every day object and automates it, there's a Shark willing to bite. I don't think the Keen Home smart vent will be any different. Look for multiple offers, even if Mr. Fant declines them.