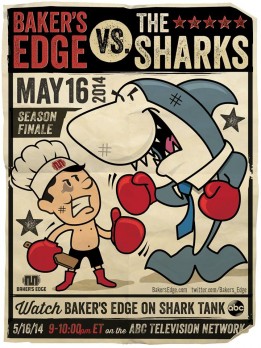 Matt and Emily Griffin pitch their innovative baking pans to the Sharks in the Shark Tank season 5 finale on May 16. The couple been making their baking pans and cooking up profits for more than ten years with their brownie and lasagna pans. They'll be showcasing their past successes and introducing their newest product, a muffin/cupcake pan.
The Griffins aren't entrepreneurial neophytes, they have over $5 million in sales for the brownie and lasagna pans to date. Baker's Edge products sell on Amazon and on their website. They had an infomercial running in years past, which undoubtedly cooked up a few sales too.
The inspiration for the "original" Baker's Edge brownie baking pans came from Matt, who wanted to design baking pans that cooked brownies with a crispy edge and a warm, moist center. Since the first product debuted, the Griffins continue to add to their innovations.
My Take on Baker's Edge Baking Pans
My first inclination when I saw this product was to say "why are they on Shark Tank? They don't need the Sharks!"
Then, I thought about it. They did $5 million in sales with their first two products. If they get a Shark involved on the third product, the Shark Tank effect could net them that much in sales or more in one year. Clearly the Griffins know about marketing their product, they're so smart they know if they bring in a Shark at 20-35% and turbocharge their sales, they'll end up making much more money.
I'm thinking they'll look for a partner on their newest product: the muffin/cupcake pans. 8 million people will watch the product get introduced and they will kill it. They also may want to get into stores to add to their direct sales. I'm thinking this is a slam dunk. I am IN.
Do Sharks Cook Up a Partnership?
I can't imagine the Sharks NOT wanting to bid on this company. With an established track record of sales, it will be easy for any of them to jump in with their expertise and continue to let the Griffins do everything else. Matt and Emily don't need babysitting; the Sharks will like that.
That said, Lori Grenier HAS to be the "target Shark" for Baker's Edge. She can take a proven product like this and blow it up quickly! I can see Lori with the Griffins on QVC the day after airing. I can also see their website (which they just totally overhauled) exploding with traffic.
I'll be surprised if Baker's Edge doesn't do a deal with a Shark (or two).