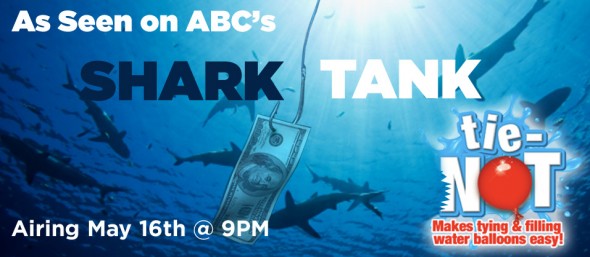 Wayne Sikorcin and Scott Smith pitch their water balloon tying device, called Tie-Not, in the Shark Tank season 5 finale on May 16. Sikorcin created the Tie-Not in 2011. It's basically a plastic device that does the stretching and tying for you when you want to fill up a bunch of water balloons. This instructional video explains it better than I can!
Sikorcin and Smith licensed the TieNot to Imperial Toys in 2012 and you can find their products at hundreds of independent toy shops and Learning Express stores all over the country. They also sell on Amazon. Their products are fun, inexpensive, and ubiquitous.
My Take on Tie-Not
We have family water balloon wars every summer. We have the Tie-Not filler and catapult in our arsenal – the product works! With the TieNot, we are able to fill up over 300 water balloons in about a half hour. Even the young kids mastered it quickly. Water balloons offer wholesome, wet, and wild fun for kids and families, which is why I love this product.
The one thing that puzzles me is why they're on Shark Tank. Many businesses with mass appeal products come on the show looking for a licensing deal; Tie-Not has one already. They also have broad distribution; I just don't see why they need a Shark unless their licensing deal went sour or they need an infusion of capital to fund purchase orders.
Whatever the case, I like this product. I am IN!
Do Sharks Tie Up a Deal?
I think the Sharks will drool over this product. It's low-priced, has mass appeal, and it looks like Tie-Not has a ton of sales. These are all things the Sharks look for. Barbara, with all the kids in her family, will love it and she may bid. Lori could sell them on QVC and help with big box distribution. Mark would bid just so he could play with some water balloons, and Robert will see the value in the company. The only thing that gives me the willies is listening to another Mr. Wonderful royalty pitch!
If TieNot has legitimate needs and they are on top of their numbers and valuation, I can't see them leaving the Tank without a deal.