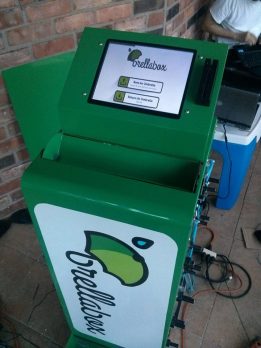 People familiar with ZipCar or CitiBike will immediately get the concept behind Brella Box. The company "rents" umbrellas to New Yorkers from over 500 locations throughout the city. Each Brella Box kiosk holds around 50 umbrellas and members use a key card to rent an umbrella for $2.50 for up to 12 hours. Once you're done using it, return it to another kiosk. You can also purchase umbrellas for $15. Founders Anusha Kambhampaty and John O'Connor pitch the business to the Sharks in episode 724
The company is green: all the umbrellas are disposable. They aim to prove the concept in New York City and move on to other cities and large campus environments. Penn State recently approved Brella Box and more colleges arwe in the pipeline. Cities and Universities lease or purchase the machines and get revenue when people get an umbrella. With successful models like CitiBike in cities all over the USA, it shouldn't be long before you can rent an umbrella in any major urban location.
My Take on Brella Box
I never used ZipCar, but I have rented CitiBikes (or similar services) in Montreal, Boston, and Tampa. The CitiBike service is just like Brella Box: pick it up when you need/want it and return it to any other kiosk. It's simple, inexpensive, and convenient – all important components of the "sharing economy." Umbrella rental is more necessary in many instances since downpours can leave many unprepared. For $2.50, most folks would jump at the option of renting an umbrella versus purchasing one for much more (or getting wet).
If I got caught in the rain, I'd plunk down $2.50 faster than you can say "thunderstorm." If the need arises and there's a Brella Box nearby, I'll certainly be a customer. Since it will always rain and since people will always want quick access to an umbrella, I think Brella Box will be a huge success. For that reason, I'm IN.
Will Sharks Rain Funds on this Company?
CitiBikes is a big business, but it began with lots of debt due to large capital expenditures on bikes, kiosks, and the software (which initially had lots of glitches) for the kiosks. Brella Box faces similar challenges, but umbrellas cost far less than bikes. The key to this business is getting the kiosks out there and getting people to use them. If everything works right, it should be a fairly simple business.
The drawbacks, particularly from a Shark's viewpoint, will be execution and debt. If Brella Box has a lot of debt, it could spook the Sharks. If there are glitches in their software, the same thing could happen. In the Shark Tank, sales trumps all, so if the business is profitable and without unmanageable debt, it could spark interest.