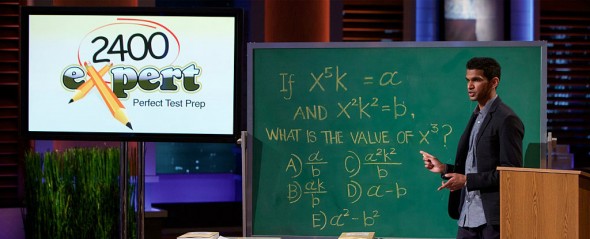 Shaan Patel shows the Sharks how smart he is when he pitches 2400 Expert, his SAT Test Prep Course, in Shark Tank episode 716. Patel started the business before his first year of medical school at USC. He claims to have the only SAT prep course taught by a person who got a perfect score – 2400 – on the SATs.
After several rejections from book publishers, Patel used his own money to start the course. When the first group of students saw their scores jump nearly 400 points on average. With the success of his courses, he finally got a book deal from McGraw-Hill. Now 2400 Expert courses are taught by certified instructors in 18 metropolitan areas nationwide.
Patel grew up in his family's low-budget hotel in Las Vegas. He was a driven student and got a perfect score n his SATs. He met President Bush in 2007 as a result and got a full scholarship to USC undergrad and Medical School. When his business took off in 2011, he took a leave of absence from USC to get his MBA at Yale. To date, 2400 Expert has over $4 million in sales.
Does Patel want a Shark to help him grow even larger?
2400 Expert Shark Tank Recap
The segment opens with Shaan at home. He explains he's invented a system to score high on the SAT tests. He says he's driven because his parents came to the USA with 75 bucks in their pockets and opened a motel. Despite going to bad, urban schools, he managed to get into medical school, get his degree, and pursue an MBA at Yale. He wants to do a deal and make his parents proud.
Shaan enters seeking $250K for 10% of his business. He says "men lie, women lie, but numbers don't lie." Out of 14 million students who took the SATS, he's one of 3000 who got a perfect score. Now, he's sharing his secrets with his students and he wants to expand his business across the nation
The first 6 week course he offered was taught in person in Las Vegas. Shaan has $1.2 million in sales in 4 years, $600K in the last year. The in person course is $199 and Shaan is starting to teach online. The average student sees a 350 point improvement when  they take the course. When Mr. Wonderful asks about customer acquisition costs, Shaan doesn't have a solid answer and Mr. Wonderful replies that the strategy is all about customer acquisition.
Shaan wants money to open new markets and he says parents are the customers. Daymond says he's already in the online education speech and doesn't want to take the ride with Shaan; he's out. Lori asks if he wants to be a doctor or an entrepreneur. Shaan says he always wanted to be a doctor. Mr. Wonderful doesn't think Shaan is oozing enthusiasm for the business.
After a break, Kevin says Shaan can't be a part-time entrepreneur. Shaan explains he's taking an extended summer break from school to focus on the business. He tells Kevin he'd be open to licensing. Lori likes the elctronic classes, but can't see giving him the money; she's out. Robert thinks Shaan is playing at the business; he's out. Kevin believes the market is recession proof, but Shaan isn't committed enough and Kevin is "not that kind of general."
Mark asks "where would you like to be in ten years?" Shaan says he's a hard worker. Mark likes opportunities like Shaan's and offers $250K for 20%. Shaan counters with $250K for 15% but Mark won't budge. Then Shaan asks for $300K for 20%, but before Mark can say no, Shaan takes the original offer.
RESULT: DEAL with Mark for $250K for 20%
2400 Expert Shark Tank Update
Mark Cuban invested in Shaan's business because he believes in education, and that decision has made him an even richer man. Since appearing on Shark Tank, 2400 Expert has changed its name to Prep Expert. The revenue from the program has quadrupled to over $4 million. Shaan's team grew from 10 employees to 50.
In 2016, Shaan created a Kickstarter campaign for a book he co-authored with Mark Cuban and a 16-year-old entrepreneur, Ian McCue. How Any Kid Can Start a Business is now available through Barnes & Noble's Create Space publishing platform and selling briskly. Shaan's written eight books previously, so this is just another jewel in his publishing crown.
Shaan has gained from his Shark partnership as well. "Mark always says, 'There's one thing you can control and that's effort,' and I think that's true," he says. "If you are willing to do put in the effort, a lot of good things can happen."
It looks like good things are ahead for Shaan and his business.
Prep Expert gets an update segment in episode 801, the season 8 premier. In the segment, he reveals an expanded business model. Shaan gets a second update in season 11, episode 1104. In this update, Shaan appears with Mark Cuban and  the guys from ChangEd to talk to students in Las Vegas about student debt. In the clip, he says he has over $20 million in total revenue.
Since appearing on the show, Shaan completed his MBA and got a medical degree from the University of Southern California. As of April, 2023, the business is going gangbusters with $5 million in annual revenue.
Posts About 2400 Expert on Shark Tank Blog
2400 Expert Company Information
Video