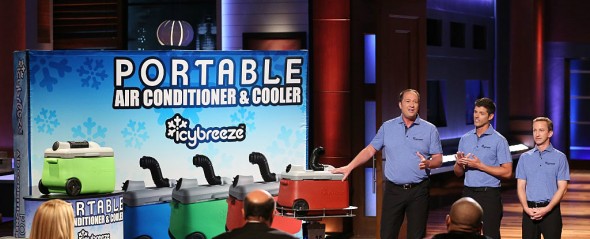 Jason Shakleford, Dave Yonce, and Andrew Jenkins look to be cool in the Shark Tank when they pitch IcyBreeze, a drink cooler that doubles as a portable air conditioner, in episode 716. Yonce invented and patented the IcyBreeze after camping with his kids in 100+ degree heat.
The IcyBreeze looks like a normal cooler, except for a battery operated fan in the lid and detachable cooling duct. When you need to cool off, simply add a little water to the ice in the cooler and the fan blows cooled air through the duct. It works on a similar principle as old-school "swamp coolers," the predecessors of modern air conditioners.
The product had some test runs in Sam's Clubs and WalMart in 2015. The battery packs come with charging cords in some models. Besides being used to cool off a camper, pets can be left in cars with an IcyBreeze cranking away. At $275-$425, it's a pretty expensive cooler, but the dual use somewhat justifies the expense. The product's been a success at outdoor and camping shows and also sells on Amazon.
The guys likely need a Shark to help bring down the cost of production and for help with big box distribution. Will a Shark think this is a chillin' investment?
IcyBreeze Shark Tank Recap
Jason, Dave, and Andrew enter seeking $50K for 5% of their business. They say being hot is no fun, that's why they invented the first portable air conditioner/cooler. Cold water from the cooler pumps into a radiator and blows the cooled air through a duct. The product is portable and wireless. When they say the retail price is $349, the Sharks hoot. Mr. Wonderful says he can get a regular cooler for 30-50 bucks, but the guys explain the nickel battery adds $191 to the production cost.
So far, they've sold 1700 units, earning a profit of $125K.  They are projecting $2.5 million in sales this year. The total Yonce invested in the business is $5.5 million. He got his money when he sold a previous business, Solar Winds Software. He came up with the idea for Icy Breeze on a camping trip. He tells the Sharks he really doesn't want money, he wants a strategic partnership.
Mark says "its' not about how big the check is," but you sometimes lose the drive. He doesn't think there's a shortcut; he's out. Daymond says "you don't need us," and he doesn't have the time; he's out. Mr Wonderful doesn't think people will spend $400 on a cooler; he's out. Robert says they wouldn't have built it if he didn't have money and he doesn't think people will buy it; he's out. Lori doesn't think there's enough history and thinks it's over priced; she's out.
RESULT: NO DEAL
IcyBreeze Shark Tank Update
In spite of failing to land a deal on Shark Tank, the creators of IcyBreeze did take away some of the Sharks' advice. The high price point was a real obstacle for the Sharks, so Jason, Dave, and Andrew set to work on modifying their design. The new version of the IcyBreeze contains a less-expensive battery. The new battery lasts 6 hours on low, 4 hours on medium, and 2.5 hours on high, according to the website, but what it lacks in capacity it makes up in affordability. The Icy Breeze is now available at $249, a full $100 less than the price pitched to the Sharks.
Their social media is active, with average reviews on Facebook holding steady at 4.4 stars. It seems that customers are pleased with their portable air conditioning units, despite the price. The units are available through their website and on Amazon. The three IcyBreeze owners weren't quite cool enough for the Sharks, but it looks like they're chilling all the way to the bank.
The three partners sold the business in 2018 for an undisclosed amount. The company is still going strong in July, 2022. Annual revenue is $3.6 million.

Posts About IcyBreeze on Shark Tank Blog
IcyBreeze Company Information
Video