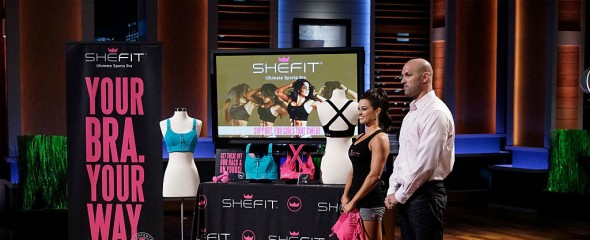 Bob and Sara Moylan pitch Shefit, the ultimate sports bra, in Shark Tank episode 716.  Sara is a former Miss Michigan Teen USA (1999), 1st runner up Miss Michigan USA (2001), and Mrs. Michigan America (2008). She's also a competitor on the Fitness America circuit. Through out all these years, Sara's been working out, and her boobs have been getting in the way.
Sara is well endowed, so she always had to decrease the intensity of her workouts to prevent soreness in her breasts. Ten years ago, she got fed up with sports bras that didn't work, so she made her own. With a glue gun, an old bra, and some other materials, she put together what she claims was a pretty ridiculous looking sports bra – this was the first working prototype for the She Fit.
When other well endowed women at the gym began asking questions about her bra, Sara took her "design" to a seamstress and had a "real" prototype made. She was looking to make Shefit an adjustable sports bra with amazing fit and incredible support. Sara took the adjustable sports bra concept to Kickstarter back in 2013 and successfully raised a little over $22,000 to put together a final product, but now the Shefit is a reality. It's selling well on Amazon and other online sites.
The Moylans likely want a Shark to help source more economical production and provide access to retail outlets. Will a Shark support She Fit?
Shefit Shark Tank Recap
Sara and Bob come to the Sharks looking for an investment of $250,000 in return for 20% equity. Sara presents the SheFit as the "only fully adjustable customizable bra" on the market, demonstrating the features, before handing out samples of the SheFit bra. Robert Herjavec jokes that he'll "use it at the gym tonight."
Lori Greiner comments on the thickness of the padding. Sara explains that the padding is removable. She explains the wicking material and the utility patent that she's holding on the compression and adjustability features.
Mark Cuban wants to talk numbers. Bob presents the sales. In the past 18 months, the pair have sold $220,000 worth of SheFit bras. $50,000 has been sold in the past 45 days. E-commerce accounts for approximately half the sales in the past month and a half, while 19 retailers make up the other half of the recent sales.
Sara plans to leave her current sales position within 90 days, and go full time with She Fit. Lori is impressed with the couple's drive and organization, but wants to know what they'll use the investment for.
Bob explains that about 70% will go toward inventory costs, increasing supply and shortening lead times. Sara interjects that they haven't been able to get an effective website together to date, and that much of their marketing has been through Facebook ads and word of mouth.
The margins are impressive, with the cost to manufacture at $14.20 and retail at $58.99. The Sharks are impressed with the numbers, but Robert challenges Sara's confidence in their ability to "go outside the pie" and re-invent the women's active wear market.
"When you talk about making a whole new market," says Robert, "You lose me. I'm out."
Kevin O'Leary likes the reduction of the SKU count that the extreme adjustability provides, but Lori is concerned that the patent may be challenged due to the existing products on the market.
Daymond John believes he can add value to the company. He's willing to give them the $250,000 ask, but he wants 33% of the company in return, and he wants an immediate answer. Sara and Bob consider it briefly before accepting the offer. Sara admits that Daymond was the Shark she was hoping to land in a deal.
Shefit Shark Tank Update
With Daymond John's input, SheFit has found its way into some celebrity endorsements, including Olympian Val Smith. The bra has been showcased on The Doctors and Bob and Sara had an opportunity to appear on The Today Show.
It's early to predict the curve She Fit will follow, but there's little doubt that the product is taking hold in women's wardrobes. The Amazon price is listed at $99.99, quite a jump from the website's price of $58.99, but the products are selling briskly. With over 20,000 searches reported by Google Trends, it's apparent that women are willing to pay for a really well-fitting, customizable bra. Daymond John may have found himself a good fit with his investment in SheFit.
In November, 2022, the company was sued by two former executives for breach of contract, wrongful termination and sexual harassment. Angel Ilagan, the former CEO alerted the Moylans of tax evasion issues and that he was going to report it to the IRS. He was immediately terminated. He's claiming protection under the Whistleblowers Protection act and suing for $900,000 in severance pay. Michelle Zeller, former Chief Marketing Officer, claims Bob Moylan made lewd comments about her wife. She's also suing for $236,250 severance pay plus additional damages. The Moylans deny all accusations. The lawsuits were settled in January, 2023. Settlement terms were not disclosed.
As of April, 2023, the company is still open for business with annual revenue of $7 million.
Posts About Shefit on Shark Tank Blog
Shefit Company Information
Video