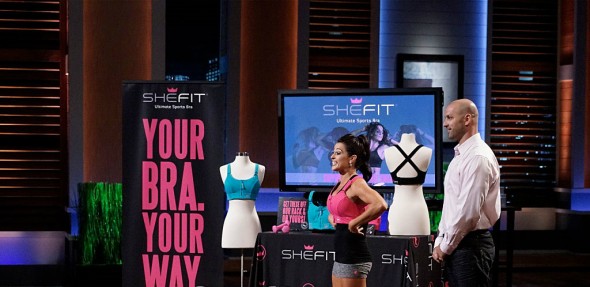 Bob and Sara Moylan hope for some support from a Shark when they pitch She Fit Sports Bras in episode 716. Sara is a former competitive beauty pageant participant who now competes on the Fitness America circuit. Working out continues to be a big part of her life.
As a life-long fitness enthusiast, Sara had issues "taming the tatas" while working out. Her rather large breasts, enhanced by her pregnancy with her first of 4 children, bounced around a lot while working out. This caused her pain and discomfort and actually limited the intensity of her workouts. She sought a solution for herself and when she couldn't find a suitable sports bra to give her well-endowed frame the proper support, she made her own. The first iteration of the SheFit sports bra was what Sara describes as "the Frankenstein of bras." She literally used several different bras, held together with a series of clips and bands.
What was initially a "monster" bra ultimately became a bra that adjusts to any woman's shape, offering proper support and compression, while eliminating painful bouncing. Since women come in different shapes and sizes, the She Fit adjusts unlike any other sports bra on the market.
It took Sara 10 years to perfect her design. Now, Shefit is designed in the USA with the very best compression fabrics, and is doctor endorsed. The end result is Sara has a bra that can take her from the gym to a formal function without sacrificing comfort, support, or style. She sells the product on Amazon, but she's likely looking for a Shark to help her do larger production runs and to get her into the right retail situation.
My Take on She Fit Sports Bras
Like any other red-blooded American male, I am a big fan of boobies! No disrespect to Bob or Sara intended, but Mrs. Boylan has what I'd call a nice rack. I can see how she'd be in a lot of discomfort with those tatas bouncing around while working out. She Fit is truly an invention created from necessity. I say if it makes women's boobs more safe and comfortable, then I am all for it!
I would never personally use this product, but I am married to an athlete. I get that athletic women have physical challenges males don't. "Taming the tatas" is one of the biggest challenges female athletes in any sport face. If the She Fit works as advertised – and based on the product videos and testimonials it does – then women all over the world will embrace it. I think Sara and Bob have a winning product, but will the Sharks?
Do Sharks see a Fit?
Bras are a big business – a $16 BILLION business to be exact! The average woman owns about 16 bras at any given time and spends $4,000 on bras in her lifetime. That's not a market to sneeze at, but it is a competitive one. The She Fit fills a small niche in that large market, but fitness apparel – bras or otherwise – is also a big business.
Bras have mixed results in the Shark Tank. In season 1, Kalyx Technologies pitched a high-tech sports bra unsuccessfully. Even though they didn't get a deal, the company was successful and ultimately got acquired by ActivewearUSA, resulting in a nice pay-day for entrepreneur Kimberly Cayce. In season six, Boobypack did a deal with Barbara on the air – but it never closed. The Natural Grip – a competitive fitness product – did a deal with Robert in season six and they've had a successful relationship with him, so there is a precedent in the niche.
The issue the Sharks will have, is whether or not She Fit has a big enough slice of the "bra pie." One solid indicator will be sales. If Sara and Bob demonstrate good sales numbers, the Sharks could have some interest. Assuming sales are solid, I'd expect a bid or two. If the numbers aren't good, it will be a rough swim for She Fit.