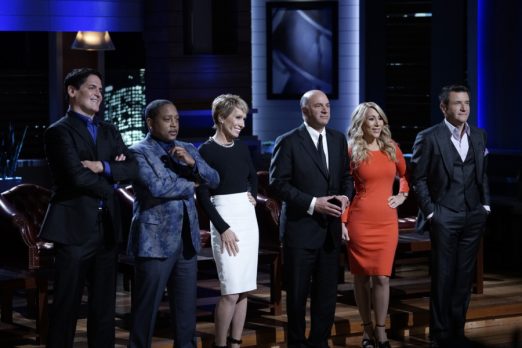 Episode 801, airing on September 23, 2016, is Shark Tank's season 8 premier episode. For the first time in the show's history, all six "regular" Sharks appear in the Tank together! Hopeful entrepreneurs will pitch to Barbara, Daymond, Kevin, Lori, Mark, AND Robert. Season 8 also features Daymond's new "do;" he's sporting a full head of hair this season.
Four new entrepreneurs jump into the Tank to pitch the six Sharks, hoping to score an investment and some mentorship for their businesses. Phil Petracca and David McDonald hope the Sharks like beer when they pitch Fizzics, their "technology" that makes any beer taste better. Justin Kittredge left Reebok to start ISlide, the "preeminent leader in slide sandals." He hopes a Shark will find a fit with his custom slide sandals company. 16-year-old high school student Trisha Prabhu wants the Sharks to think hard about ReThink, her anti-cyberbullying software and app that help kids stop and think BEFORE sending hurtful messages or social media posts. Finally, Marti Wymer hopes to get comfortable with a Shark as a partner when she pitches Spoonful of Comfort, her custom care package business that features home-made chicken soup.
Which business will catch a Shark and become the next Shark Tank success story?
Mark Cuban invested in Shaan Patel and his test prep company, 2400 Expert, in season seven. He invested $250K for 20% of the company and things immediately took off for Mr. Patel as he grew to over 20 cities and began online test prep courses. We'll see what else has happened to this Shark Tank success tonight.
There are 28 Shark Tank Episodes for Season 8. This season features more appearances by Chris Sacca and a host of other surprises. Casting is currently closed, but it never hurts to get a head start on season nine! If you would like to appear on the show, check out our Auditions and Casting information.
Episode 801 – The Shark Investors and Entrepreneurs
The Shark Tank Episode 801 entrepreneurs will make their best pitch to the panel of five Shark investors who will use their own money if they choose to invest. The Shark Investors negotiate on the spot without any previous information, which differs from typical negotiations between venture capital investors and entrepreneurial start-ups.
Companies pitching the Shark Investors must go through a rigorous due diligence process before an on-air deal is completed. Shark Tank Blog follow ups help you keep track of the companies that end up successful and the ones that don't complete their deal.
Thank you for reading SharkTankBlog, the number one site for Entrepreneurs, Investors and Fans. Our content updates multiple times day, giving you the latest information on Episode 801, Season 8, and all other seasons and episodes.
Episode 801 Press Release
SEASON PREMIERE – Episode 801 (9/23)
SEASON PREMIERE
'SHARK TANK,' THE CRITICALLY ACCLAIMED AND EMMY AWARD-WINNING
SHOW THAT HAS INSPIRED A NATION TO DREAM BIGGER,
RETURNS TO ABC FOR SEASON EIGHT ON FRIDAY, SEPTEMBER 23
For the First Time, the Feeding Frenzy in Season Eight Begins
With Six – Not Five – Sharks Circling the Tank
Pitches Include a Teenager Who Uses Technology to Solve a Problem That Technology Created; and a Surprise Appearance from Pittsburgh Steelers Wide Receiver Antonio Brown
"Episode 801"— "Shark Tank," the critically acclaimed and Emmy Award-winning reality show that revolutionized entrepreneurship in America, is back for an eighth season with the Sharks continuing the search to invest in the best businesses and products that America has to offer. In the season premiere and for the first time, the feeding frenzy begins with six Sharks instead of the usual five circling the Tank, airing FRIDAY, SEPTEMBER 23 (9:00-10:01 p.m. EDT), on the ABC Television Network.  Pittsburgh Steelers wide receiver Antonio Brown stops by the Tank to tout the benefits of personalized shoe slides developed by an entrepreneur from Norwood, Massachusetts; a wise-beyond-her-years 16-year-old high school junior from Naperville, Illinois, impresses the Sharks with an app that can stop cyberbullying messages before the damage can be done; two men from Howell, New Jersey, designed an ingenious at-home beer dispenser that uses sound waves that makes bottled and canned beer taste just like draft; with inspiration from her terminally ill mother, a woman from West Valley City, Utah, realized that sending heartwarming chicken soup was the perfect gift and a needed business. Also, an update on Shaan Patel from Las Vegas, Nevada, and his SAT prep course, 2400 Expert, in which Mark Cuban invested in during season seven.
The Sharks in this episode are Mark Cuban, Kevin O'Leary, Daymond John, Lori Greiner, Barbara Corcoran and Robert Herjavec.