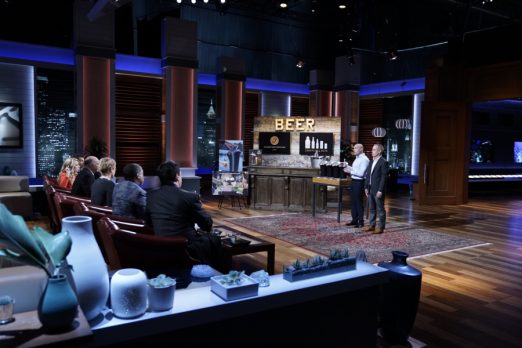 Phil Petracca and David McDonald pitch Fizzics, their patent-pending invention that enhances the flavor of any beer, in Shark Tank episode 801, the season 8 premier. The pair began an over one year journey to inventing the Fizzics Technology Platform after wondering aloud why beer always tastes better from a tap. They experimented, researched and, through trial and error, came up with their invention. To get it made, they turned to IndieGoGo to crowd fund it and raised over $250,000!
What the product does is enhance the flavor of any beer by pressure from ultrasonic waves. Simply pour any beer – up to 64 ounces worth – into the vessel, and you'll instantly improve the flavor. The waves enhance the carbonation of beer and create a rich, creamy head. It works with any style of beer and users can experiment with the level of carbonation to suit their own tastes.
The beer gets drawn from the Fizzics machine with a tap-like lever. Clean-up is easy: just run clean water through the machine and periodically remove the anti-microbial mat for cleaning. It runs on four AAA batteries and costs around $165. Petracca and McDonald likely want a Shark to help with production and marketing.
Will a Shark "get Fizzical" and invest in this business?
Fizzics Shark Tank Recap
Phil and David enter seeking $500,000 for 4% of their business. They tell their story and hand out samples. Each Shark got a regular beer and a beer from the machine; they universally declare the Fizzics beer tastier. Mr. Wonderful says he's impressed with the product, but not the valuation.
When the guys said they did $3.2 million in sales in less than a year, the Sharks were impressed. They like the margins, too: they sell for $199 and it costs $38 to make. After some chatter about the valuation, Robert offers $500,000 for 8%. Kevin offers the same, claiming he could sell more than any of the Sharks. Barbara says it all sounds too good to be true, she's out. Daymond wants to know why they're here since they're cash flow positive. After the Sharks keep talking over each other, he goes out.
Lori says she's interested since she thinks it would sell well on TV. She offers the same as Robert and Kevin. Mark jumps in and offers $800,000 for 10% and asks Lori if she wants to partner up. Phillip counters with $2 million for 16% and Mark and Lori take the deal.
Fizzics Shark Tank Update
The Shark Tank Blog constantly provides updates and follow-ups about entrepreneurs who have appeared on the Shark Tank TV show. They were on QVC the day after the episode aired and they debuted a smaller, less expensive model. They eventually got into Target, Bed Bath and Beyond, Brookstone, Amazon and more.
Phillip left the company in 2017 to start a craft brewery in Colts Neck, NJ. In March, 2019, the company filed for Chapter 11 bankruptcy. A little over a year later, according to a PR release, the "company emerged from Chapter 11 bankruptcy protection by successfully completing a debt restructuring and implementing the reorganization plan confirmed in the U.S. Bankruptcy Court for District of Delaware on March 26, 2020." As of May, 2021, the business is still operating but Mark and Lori don't appear to be involved any more. As of April, 2023, the business is doing about $4 million in sales annually.
Posts About Fizzics on Shark Tank Blog
Fizzics Company Information
Video