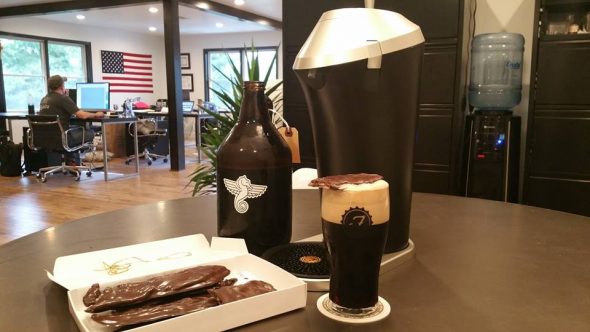 Phil Petracca and David McDonald introduce the world to their Fizzics Beer System in the season 8 premier of Shark Tank. They'll pitch to six Sharks, not five. Whether this increases their chances of getting a deal remains to be seen, but one thing's for sure: we know the Sharks love beer!
The Fizzics Beer System isn't a home-brew kit. What it does is enhance the flavor of any beer using science. The science involves ultrasonic waves that enhance the head of any store-bought beer, giving it a "fresh from the tap" pour. They claim this stimulates all five senses and provides a "sublime beer experience and sensory fusion."
It's simple to use, too. The Fizzics Beer System only needs four AAA batteries and doesn't require any gas cartridges. It's designed to fit any standard sized can, bottle or growler. Simply place the beer container in the Fizzics Beer System and let the machine do its thing. When you draw the beer out, it has a thick, aromatic head. As they say: "it makes good beer taste great and bad beer taste pretty good."
They struck a chord with the beer connoisseur crowd. Reviews are unanimously good and they raised over $250 on IndieGoGo to fund their first production run. They probably need a Shark to fund their expansion and to help with mass marketing. Hopefully, after Friday night, they'll be tipping a glass to toast a new partner.
My Take on the Fizzics Beer System
I am a little biased on this product, because I LOVE Beer. Guinness is my favorite, but I don't have it as often as my old standby Rolling Rock. My wife tends to go for craft beers when we go out, but she'll tip a Rolling Rock at home, too. While Rolling Rock is a good, light beer for the money, I wouldn't call it "premium." If the Fizzics Beer System could improve its taste, I'd want to try it.
This product would be fun for experimenting with beer, too. I think it would be fun to try it with a wide range of brew from Sam Adams to Keystone Light – just to test the effects. It would be great adult fun for a tasting party. At $169 a pop, it's not cheap, but if you could by a lesser quality beer and juice it up with Fizzics, it could pay for itself. I guess it depends on your taste.
This is a product I'd love to have, just for the science angle. Since there is beer involved it doubles (or even triples) the fun. If my kids are looking for a good present for dad (hint hint), this would fit the bill. I am IN!
Will Sharks feel the Fizz?
When other beer products appeared in the Tank, the Sharks showed their love for beer. Mr. Wonderful, Mark, and Lori seem to like their beer – with Mark as the most beer friendly Shark. Mark's made no secret that he's a "Bud Light kinda guy" in the past. If Fizzics can make his Bud Light taste better, THAT would be something. If they bring Bud Light for a demo beer, they may win Mark over.
The other Sharks could like this product, too. It does come down to numbers and raising over $250K on IndieGoGo proves the concept. In order to get a deal, Phil and David will need to show their product is both tasty and profitable. I am predicting they get a deal, likely with Mark and possibly one other Shark.