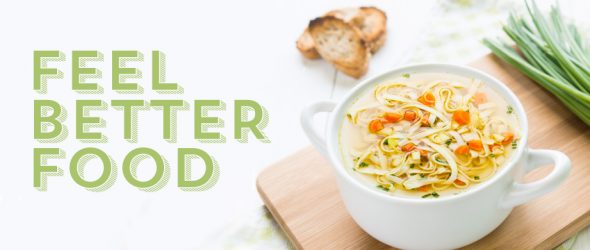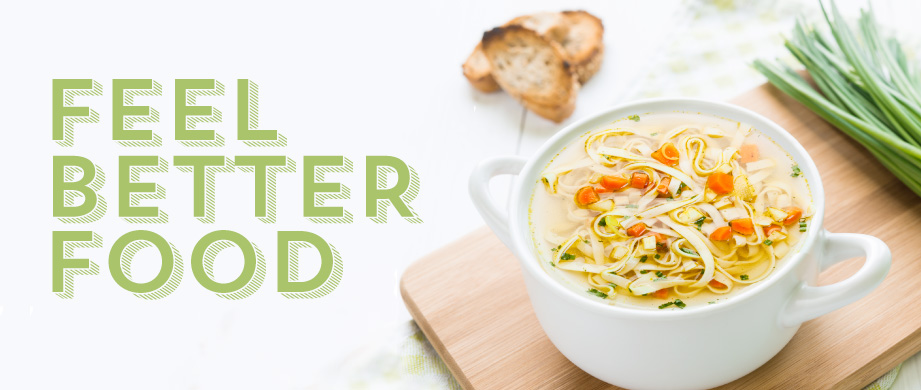 Chicken Soup may be good for the soul, but Marti Wymer and Scott Gustafson hope the Sharks think their Chicken Soup care package business – Spoonful of Comfort – is an appetizing opportunity for a Shark in the Shark Tank season 8 premier. Wymer started the business in 2008 after losing her mother to lung cancer. She dedicates her company "to the memory of Mona Bowes: mother, friend, and chicken soup connoisseur."
After finding out her mom was sick, she realized she couldn't travel from Florida to Canada to see her due to the fact she had two small kids. Many friends and family brought her mom soup, but she never tried Marti's. To honor her memory, Marti started cooking up soup and shipping it to help comfort her customers' loved ones.
For $69, you get soup for 4-6 people, 6 rolls, 6 cookies, a ladle, and a personalized card. It's a different twist on the age-old care package  and Marti guarantees 100% satisfaction. There are plenty of rave reviews about the service – she must be doing something right if she's still in business after 9 years.
Marti probably wants a Shark to help her expand production capabilities – maybe by building a new chicken soup kitchen!
My Take on Chicken Soup
I can't think of anyone who doesn't like chicken soup. I often cook up a batch after having a whole chicken for supper. I like mine with dumplings! Like a lot of folks, I'll also crack open a can every once in a while, but it's not the same as home-made.
Spoonful of Comfort sells a high-end product. I haven't tried the soup, but it has to be good with so many happy customers. I have four kids off at college and I send them care packages from time to time, but they usually contain folding money! I don't know if I'd personally send soup to the kids, or anyone else for that matter, but my wife loves the idea. For that reason, I'm in.
Do Sharks Bite Soup?
The idea of care packages and gift baskets isn't new. What sets Spoonful of Comfort apart is they sell soup. I never heard of soup in the mail before and I bet the Sharks haven't either. What they'll be focused on is how well the business runs and why Marti needs the money.
If the company has been in business 9 years, they must be doing something right. There could be some skeletons in the closet though, and that could be harmful. I don't think this company leaves with a deal, but it should be a heartwarming segment.