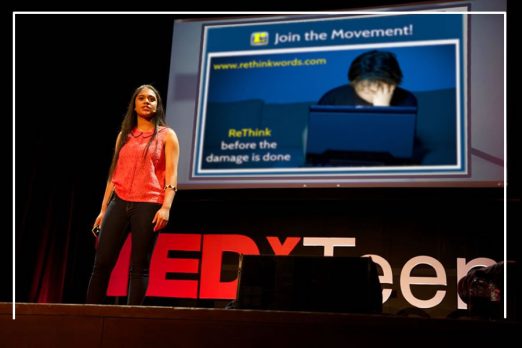 To say Re Think creator and founder Trisha Prabhu is an entrepreneur is an understatement. The 16-year-old computer whiz is part entrepreneur, part typical teenager, and part crusader for social justice. She created the Re Think app after reading about an 11-year-old girl who leapt to her death from a water tower. The suicide was due to the child's inability to cope with cyberbullying. Every year, 4500 kids commit suicide. A growing number of those suicides are a direct result of cyberbullying. In fact, a study shows 42% of kids who have access to technology have been victims of cyberbullying.
With kids getting sophisticated mobile devices at a younger age (11.6 years old is the average), opportunities for cyberbullying are available earlier – when kids are less emotionally capable of handling it. It's a national epidemic and schools and communities often deal with the problem after it occurs. Unfortunately that's too late for too many kids.
Rather than just be outraged about the problem, Trisha decided to do something about it. She's an anti cyberbullying advocate and delivered a powerful TedTeen Talk that will move people who find this problem disturbing. Trisha also decided to do something about stopping the cyberbullying before it happens. That's why she invented Re Think. She hopes the Sharks see her passion and vision when she pitches Re Think in the season 8 premier.
The concept behind the Re Think app is simple. An algorithm detects hurtful language and asks the user to "re-think" what they are typing. 93% of app users will not send an offensive message once they are asked to re-think sending the message. This stops cyberbullying BEFORE it happens. Most social media sites stop, block, and notify AFTER it happens and most kids are too afraid to report it in the first place.
My Take on Re Think
As a parent of 5, I've experienced bullying and cyberbullying. A friend of two of my daughters is an unfortunate suicide statistic. I take cyberbullying seriously and anything that stops it is a good thing. Trisha's technical talent and advocacy against cyberbullying is commendable.
She's won numerous accolades from a variety of sources: Google Science Fair Global Finalist in 2014, MIT (Massachusetts Institute of Technology) Aristotle Award winner, 2016 Illinois High School Innovator Award by University of Illinois at Urbana-Champaign, Global Teen Leader 2015 by We Are Family Foundation and won the "Global Anti-Bullying Hero" award from Auburn University, "Anti-Bullying Champion" award by the Princess Diana Awards, UK and Upstander Legacy Celebration award from Tyler Clementi Foundation.
She has an app for Apple and Android devices and is working on a Google Chrome extension that helps people Re Think. This kid has it together and she's making the world a better place. I am so IN on this, I am telling the principle of my daughter's middle school about it and recommending it to the Sarasota County School board. EVERY PARENT with a child who has a cell phone should require the installation and use of this app!\
Do Sharks Even NEED to Think?
If this kid doesn't get a deal, I will be shocked. The Sharks should fund her because she'll save lives. It doesn't matter if the business is profitable. If all six Sharks don't go in on this, I will be deeply saddened. This app should be a standard feature on all phones.
GIVE HER A DEAL SHARKS!