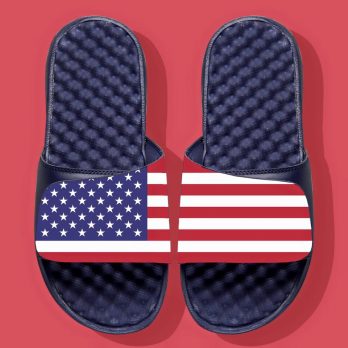 Justin Kittredge hopes the Sharks invest in I Slide, his new custom slide sandal company, in the season 8 premier. The product is a new twist on a very old footwear staple: the sandal. Slide sandals are like flip-flops, but they have the band across the foot instead of the strap between the toes. What makes I Slide sandals special is the patent pending "Waves Gel" sole, with built-in arch supports.
The other thing that differentiates the business is customers can customize their sandals. Different sole and in sole colors allow for a variety of color combinations. You can also customize the strap with any non-licensed image. There are many licensed images available on the company website and on Amazon. I Slide was a big hit with pro basketball players and they have a license with the NBA. Fans can get their favorite team's logo on the strap.
There are a lot of opportunities for the custom strap feature: corporate gifts, ad specialties, and personalized gifts. At $65 a pop, they're on the pricey side, but they've grown to a million dollar company in just three years, so somebody must be buying them. Kitteredge is no stranger to the footwear biz either: he managed the basketball division at Reebok before he started I Slide. Perhaps a Shark will find a good fit with this business.
My Take on I Slide
I'm a big sandals guy since moving to Florida. I wear my Xeroshoes when I am out and about and my Combat Flip Flops when I'm chilling around the house. I Slide Sandals would be a welcome addition to my growing sandals collection.
Whenever a shoe business appears on Shark Tank, I contact an old friend who is an executive at New Balance. She also worked for Reebok at the beginning of her career. Her response is always the same: "Why the f@@k would anyone want to start a shoe company?!" She said she was familiar with I Slide and thought they had a good niche, but New Balance isn't too worried about losing market share to the company. She thought the licensing/customization angle would help drive sales.
One thing I like about them is the "Waves Gel" sole. From what the company literature says, it's like walking on water. Sounds comfy and the added arch support – missing in most sandals – would be heaven for my flat feet. I am IN, in a size 11!
Do Sharks Slide on Down?
Historically, shoe companies don't do well in the Tank. The production logistics and difficulty getting any kind of market momentum are extremely difficult. There's often not solid sales, either. While I could go on about why they won't bid on I Slide, I will have to say I just know they don't do a deal.