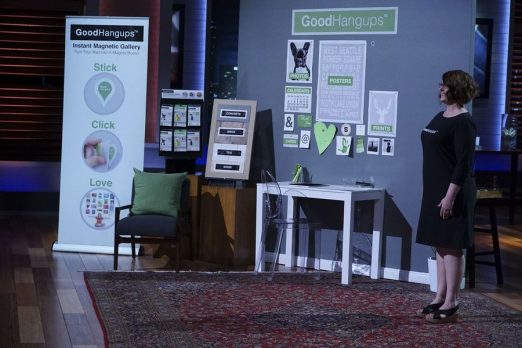 A four-year-old with a penchant for creating works of art led Leslie Pierson to create Good Hang Ups, a system that allows people to attach posters or artwork to any surface with a magnetic, non-marking adhesive strips. Basically, the invention turns any wall into a refrigerator. The product works for anything and it's a way for people to inexpensively display works of art without marking up or damaging walls.
If you've ever had a refrigerator loaded with kid's artwork, you'll see the practicality of this product. The folks at the Today show did, that's why they named Good Hang Ups their "Next Big Thing" in 2015. The exposure Pierson gained from that honor led to a successful run on QVC. When she appeared, she sold out almost immediately.
The secret is "the patent pending MagnaStickers. They are removable & reusable magnetic receptive stickers that can turn most surfaces into a magnetic board." The stickers stick on any surface: concrete, brick, plaster, wood, glass, and more. Once in place, they become the receptor for powerful mini-magnets that act as thumbtacks. Unlike thumb tacks, they don't pierce the artwork or the walls.
If you want to display artwork, whether it's a print from an art store, a poster of your favorite band, or something your kid brought home, Good Hang Ups gets the job done without a hassle. People love the concept, but Pierson's business is growing so fast, she likely needs a Shark to help her scale.
My Take on Good Hang Ups
As a father of five, I can identify with the exponentially increasing squalor of kids' art on the walls. At one point in our lives, we had three walls in our kitchen dedicated to our childrens' art. It was a whimsical, colorful display, but we used tape to hang them. I remember when it was time to paint the kitchen, there were many damaged pictures and the walls were a mess.
The children's rooms were also galleries. Their walls had many posters and other artwork hanging. When we moved last year, I had to paint their rooms and I spent an entire day filling holes from thumbtacks. I wish we had Good Hang Ups back when the kids were little, it would have saved me a lot of labor and rescued many posters from the recycle bin. For that reason, I am IN.
Will Sharks Hang With the Next Big Thing?
Pierson and Good Hang Ups have a lot going for them. The previous exposure gives her proof of concept and the success on QVC indicates she can show the Sharks some sales. This is a good position to be in when you jump in the Shark Tank. I am predicting Leslie needs to scale beyond her current capabilities due to the meteoric rise of her business.
This makes a perfect storm for a bidding war. Some Sharks may say "it's just a product, not a business," but I' expect at least two offers. Lori ought to be a bidder. The demonstrable success on QVC gets Lori interested, plus she's had success with other magnetic products (Urbio, ReadeRest). Good Hang Ups has mass appeal, a low price point and is easily demonstrated – three things Lori looks for in her "heroes."
While there may be a bidding war, I think this product has Lori written all over it. Look for this business to become one of Lori's next big successes.